Sourcing Toys from the Best Manufacturers in China
Our mission is to help start-ups and SMEs source all kinds of toys from China. As the best toy sourcing company in China, we can help you deliver high-quality and affordable toy products to you at the designated time and place in the easiest way. Not only that, we can also provide customized services for your brand. Tell us now, what are your needs?
Sourcing From China Now
Submit Your Sourcing Request now
Before start using our service, please fill in the following form to tell us what products you want to import from China.
Once we get the detailed information for the sourcing request, your assigned customer representative will contact you soon. We will support you from sourcing to shipping.
The stage of your business
China's Reliable Toys Purchasing Agency
Want to source high-quality and cheap toys in China?
No experience and need a one-stop sourcing service?
Eager to find a more specialized factory in certain fields?
With the help of our good sourcing agents, buyers can not only save time in finding reliable factories but also get lower prices instead of diving into the market by themselves

Coolo sources toys for e-commerce sellers, retail stores, and wholesale importers. With us, you don't have to think about inventory, packaging, or shipping.
Helping You
Import Toys from China
As the best Chinese sourcing company, Coolo helps you find the best factory, get competitive prices, follow up production, quality inspection, and home delivery. We can provide you with Industrial Products categories.
Coolo sourcing
is Ready for Any Scaled Business
If you prefer leaving the importing procedures and domestic logistics in your country to your own freight forwarder or customs broker, we can ship the cargo to the sea, air, or railway port designated by you.
Small Size Business
If you invest over $500 in a product, we will help you find a factory to make your products, customize packaging, and achieve your brand dreams. We can meet all your e-commerce (Shopify, Amazon) requirements.
Large Size Business
If you invest over $500 in a product, we will help you find a factory to make your products, customize packaging, and achieve your brand dreams. We can meet all your e-commerce (Shopify, Amazon) requirements.
Product Development
If you have a product idea (kickstart, crowdfunding) and the money to produce it but don't know where to start, we will guide you every step of the way, from the prototype to the final product.
Contact Us
to Get More of our specialized product categories!
"0-1" One Stop Sourcing Service Help you Import from China
0-1 one-stop sourcing service: We have our design team to assist you to build up a General idea into a product ready to sell. After the sample is confirmed, we ensure the quality of your bulk order. Providing perfect inspection then shipping to your destination. Various services ensure the best sourcing experience.
Product Design
Modeling
Proofing
Sending Samples
Taking Photos
Order Tracking
Quality Inspection
Packaging
Logistics
Product Certification
Try Our Purchasing Service for Free
We are a reliable purchasing agency company in China, and we have helped customers from more than 30 countries/regions, such as the United States, Germany, the United Kingdom, Greece, France, Austria, the Middle East, and Africa, to provide professional purchasing services.
Get A Free And Quick Quote
Knowledge of Purchasing Toys
Why do Most Toys Come from China?
China currently has 6 million large and small toy manufacturing factories. They manufacture a wide variety of wooden, plush, metal, and plastic toys.Each manufacturer may introduce ten or more new goods each year.
China's toy industry has material suppliers, production equipment suppliers, design suppliers, packaging suppliers and other supporting facilities to help each factory launch new products, so from materials to production equipment, product design, packaging, Chinese toy manufacturers will do Different updates are made every year to meet the requirements of different buyers in different countries.
What Types of Toys Can You Source in China?
Plastic toys
There are too many such toys in China, hundreds of millions. Electric toys, building block toys, action toys, game toys, outdoor toys and more are all included. Different suppliers provide different product quality, product design and product packaging for the same toy.
Plush toy
This is such a popular category that nearly every retail toy store carries plush toys. In China, there are more than 20,000 factories producing plush toys. They are located in Guangzhou, Qingdao, Baigou, and Yangzhou, but you only need to go to Yiwu, where you can see all kinds of plush products industrial bases, see samples, and place orders. Because Yiwu is the largest toy distribution center in China, the article provides a detailed introduction to the Yiwu toy market.
Wooden toy
This is one of the most natural and environmentally friendly toys on the market, especially for babies and toddlers. Buyers prefer toys made of this material.
There are also many types of toys, such as remote control toys, dinosaur toys, baby toys, etc., with a wide variety.
How to Find a Toy Supplier in China?
Toy fair
If you are looking for toy suppliers, the fair is usually held 1-2 times a year. Suppliers will display their most advantageous and latest products at the exhibition, allowing you to see samples directly and learn all product information. In addition, at the exhibition, you can directly negotiate with toy suppliers to get more product details, prices, packaging, order MOQ.
China Online B2B Marketplace
Now China's e-commerce is very developed, and there are already many B2B business platforms available for overseas users. Below are the largest B2B companies in China.
Alibaba
Made-in-China
Global Sources
Dhgate
Linkedin
Do you know what Linkedin is? Do you think Linkedin is just a recruitment platform? In effect, LinkedIn is now a company presence platform as well as a social media platform. Many Chinese toy factories now have Linkedin accounts. You only need to enter product keywords in the search box to find a large number of matching supplier resources.
Search by google
Everyone is familiar with Google, and some good toy manufacturers will have rankings and introductions on them. You can find this toy supplier on Google, which means he has been vetted to ensure the quality of his products.
Will It Be Cheaper to Import from a Toy Factory?
Many people will ask, "Can I find a Chinese toy factory and get the best price?"
Yes, you can get a lower price, but only if your order meets the factory's minimum quantity requirement.
For example, if you buy 5,000 toy cars, you can place an order directly with the factory and get a good price. The factory can design new packaging for you, add your logo, etc.
However, if you only ask for 100-200 pcs/piece, the factory will refuse to accept the order, and will guide you to their cooperative store in Yiwu market to make an inquiry and place an order.
How to Choose the Best Chinese Toy Supplier?
I believe everyone will be like me. There is a situation where a product has been found, but more than one supplier has been found, and some products may have found 4 or 5 suppliers. As follows.

First, consider the quality
The pictures show the quality of some products, but 80% of the photos cannot be seen because of beautification. Product does not meet specifications. To view a product's weight, features, and other specifications, navigate to the product detail page. If possible, ask the seller to send you samples for confirmation and comparison. Despite the extra shipping and time costs, I think it's necessary.
Second, look at the packaging
Product packaging is undeniably important for toy products, good packaging can increase sales.
Third, consider the cost
When looking at a product, many buyers look at the price first and choose the cheapest option. However, I think that buying goods is neither choosing the most expensive nor the cheapest, but choosing the most suitable one. For example, if you find 10 suppliers, most of the quotations are around 5 US dollars, but there are 2 suppliers whose quotations are 2 US dollars and 8 US dollars. I suggest you choose 5 US dollars as a reasonable market price.
Finally, consider serving
A supplier's customer service staff is important. A good customer service representative can put your mind at ease when it comes to English communication and response times. Among our many cooperative suppliers, I believe that the supplier's professionalism in product sales is more important. If they all know the product well, they will be able to give you more advice and opinions, making it easier for first-time buyers.
Toy Certificate
Many people care about the toy certificate, because the intended users of the product are children, so many countries will have requirements.
So, what are the advantages of toy certification generally tested by testing agencies?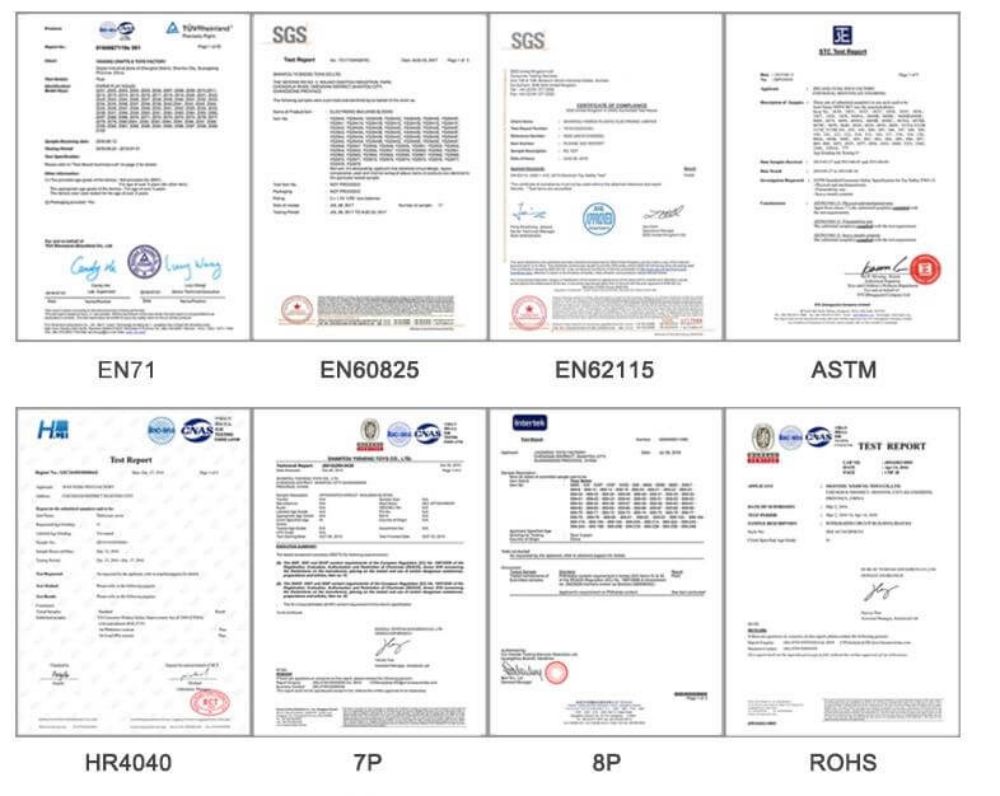 Generally speaking, the testing agency will test the flame retardancy of the toy and whether the toy contains harmful elements. Flame retardancy refers to whether a toy product is easy to burn when it comes into contact with a fire source, and there are potential safety hazards. The harmful elements usually detected are boron, phenol and phthalates. As long as the toy product is within the safety range, a certificate can be issued.
Problems That May Be Encountered When Importing Toys in China
Importing toys from China may encounter the following problems:
Quality issues
China is one of the largest toy producers in the world, but due to fierce market competition and imperfect supervision, some low-quality or substandard toys may flow into the market. These toys may have safety hazards, such as containing toxic substances, being fragile or easy to chew, and having sharp edges, etc., which may cause harm to children.
Intellectual property infringement
China's intellectual property protection is relatively low, and some unscrupulous companies may manufacture and sell toy products that infringe on other people's intellectual property rights. If you import these infringing products and sell them in the destination country, you may face intellectual property disputes, be accused of infringement and bear legal responsibility.
Shipping and logistics issues
Toys imported from China need to go through international transportation and logistics links, including sea, air or land transportation. During this process, there may be problems such as shipping delays, damage or loss of goods. In addition, you also need to understand the relevant import regulations and requirements of the destination country to ensure compliance with relevant standards and regulations.
Language and cultural differences
Language and cultural differences can cause communication barriers and misunderstandings when communicating with suppliers in China. Make sure to establish clear lines of communication with suppliers and clarify your needs and requirements to reduce potential problems.
Tariffs and import restrictions
Different countries may have tariffs and import restrictions on the import of toys. Before importing toys from China, you need to understand the relevant laws, regulations and requirements of the destination country, including tariff rates, safety standards, quality certification, etc., to ensure that your import behavior is legal and you can bear the relevant costs.
Please note that before importing toys from China, it is recommended that you conduct adequate due diligence and choose a supplier with a good reputation and high quality standards to reduce the risk of potential problems. In addition, finding a reliable China toy sourcing agent is also a good choice, which will make your China sourcing trip very smooth.
What Is China Toy Sourcing?
China toy purchasing agent is an organization or individual that provides professional services for foreign buyers. They act as intermediaries in China, helping foreign buyers handle all aspects of toy procurement to ensure smooth procurement.
By cooperating with Chinese toy purchasing agents, foreign buyers can reduce communication barriers with suppliers, improve purchasing efficiency, and get professional support and advice during the purchasing process.
Benefits of Hiring a Toy Sourcing Agent in China
Hiring a toy purchasing agent in China can obtain professional service and support, reduce risks in the procurement process, and improve procurement efficiency. Here are a few benefits:
Supplier screening
There are a large number of toy suppliers in China, with varying quality and reputation. Hiring a toy sourcing agent can help you screen out reliable suppliers, saving you time and effort.
Price negotiation
The agent has a deeper understanding of the Chinese market and can assist you in price negotiations to strive for more competitive prices and preferential terms.
Cultural and linguistic advantage
Language and cultural differences in China can be a challenge for foreign buyers. A toy sourcing agent can act as a communication bridge to help you communicate smoothly with your suppliers and avoid misunderstandings and problems.
QC
The agent can supervise and control the quality of the production site to ensure that the purchased toys meet your quality standards and requirements. They can supervise the production process and carry out product inspection and sampling inspection when needed.
Export and customs affairs
The agent can handle export documents and customs formalities to ensure that the goods are legally exported and declared in accordance with the regulatory requirements of the destination country. This saves you time and effort and ensures that your import procedures comply with legal requirements.
Risk management
Toy sourcing agents' knowledge and experience of the Chinese market enables them to help you reduce potential risks. They can provide market intelligence and risk assessments to help you make informed decisions.
Overall, hiring a toy sourcing agent is cost-effective! Their expertise and experience can save you time, energy and resources for a successful toy purchase.
How to Find a Reliable Purchasing Agent?
Coolosouring is a leading sourcing agency company in China, we are located in the most famous international city - Yiwu, we have also become the most prestigious online sourcing company. We are committed to helping startups, crowdfunding companies and Amazon sellers source products from China to ensure the best quality, compliance at the lowest cost.
We expect to be your long-term partner, our competitive price means you will get more profit through us compared with other international services. We take every product seriously, 100% higher than third-party testing companies. Our staff has very good English skills, you don't have to worry about communication barriers with us.
Therefore, Coolosouring will be your best choice!
What Services Does China Toy Sourcing Offer?
Toy purchase
We are experts in managing the purchasing process of imported toys from China. Send us any type of toy requirements and we will arrange the purchasing for you.
China market guide
China toy market visit business investigation: market tour; market translation and recording; special request (such as test report, OEM); price list report sent by email.
Toy certificate
We assist buyers to obtain necessary certifications such as CE and CPSC test reports. We have a corporate laboratory that can help you obtain safety test reports.
Ensuring Quality Control with Toy Sourcing Agents
Ensuring quality control is an important aspect of working with a toy sourcing agency. Here are some steps you can take to ensure quality control when working with a toy sourcing agent:
Set clear quality requirements
Conduct a factory audit
sample inspection
production monitoring
quality control check
Implement a quality control process
Comply with safety regulations
Regular and effective communication
Remember, it is crucial to work with a reputable and reliable toy sourcing agent who has quality control experience and understands your specific needs. Their performance is regularly assessed and any issues that arise are promptly addressed to maintain a high level of quality control throughout the toy procurement process.
Simplify the Toy Sourcing Process with Agency Expertise
Working with a toy sourcing agent can simplify the toy sourcing process.
Toy sourcing agents have existing relationships with manufacturers and can save you the time and effort of finding a trusted supplier.
Toy sourcing agents have in-depth knowledge of the toy industry, including trends, regulations, and safety standards.
Toy purchasing agent has experience in negotiation and pricing.
Reputable toy sourcing agents understand the importance of quality control.
Managing a supply chain is a complex task, especially when dealing with overseas suppliers, then a toy sourcing agent can help you save a lot of effort.
A toy sourcing agent acts as a bridge to facilitate effective communication between you and your suppliers.
By outsourcing toy purchasing to an agency, you save valuable time and resources.
Order from Us
Wholesale purchasing and delivery of toys can be laborious and time-consuming. The importation of children's items can be confusing when one is not familiar with the transaction process. Here are a few simple steps to order our products.
Step 1: Create a product order plan. (1-3 days)
Before ordering, you can send us the type of children's products you want, and one of our account managers will contact you to follow up on your order with details. If you don't know what you need, you can ask us for a catalog and choose your favorite style from the catalog.
Step 2: China toy market visit (if required)
The China Toy Market is an excellent place for purchasing managers to view more products. If you plan to visit the Chinese toy market (Yiwu Toy Market and Shantou Toy Market) to view samples or do market research. We provide one-stop services to make your travel easier (hotel, airport pick-up, translation, etc.).
Step 3: Production and quality control (7-20 days)
Once you confirm the item order, we will start to follow up to ensure that you receive the quality and design that meet your expectations. If you order products that are in stock, the goods can be delivered within 3-7 days. If you need our factory to produce, it usually takes about 20 days to produce. During this period, we will strictly control the quality of your order.
Step 4: Shipping (7-25 days)
You can provide your international shipping address and we will choose the best shipping method for you. For example, if you choose to ship by air, it only takes 7-10 days, while it takes about 25 days to ship by sea.
Step 5: After sales service
Our service will continue even after you receive our goods. If you have any questions about the sales process, please contact us. Our team is always available and responsive, and most importantly, we are passionate about what we do, so you can contact us with confidence and satisfaction.
FAQ
Q1: How about the MOQ?
A: MOQ varies by product. Generally speaking, the starting quantity of each item is between 30 and 500 pieces.
Q2: Do you have a certificate?
A: Most of our products have passed En71 and CE certification, suitable for European market. If you plan to sell in the US market, we can assist you to obtain CPC product certification.
Q3: Can you put my company logo on the product?
A: If your order is small, we can put your logo label on the product. If you buy up to 2000 pieces, we can customize your product packaging, including packaging redesign and printing.
Q4: how's the price?
A: Our prices are reasonable as we only add about 5% to the factory price. That's much cheaper than quotes from Alibaba traders, who typically make 20-30% or more in profit.
Q5: What are your terms of delivery?
A: We accept terms such as EXW, FOB and CIF.
Ask Quote
We will on serivce on time for your any inquiries
Submit Request