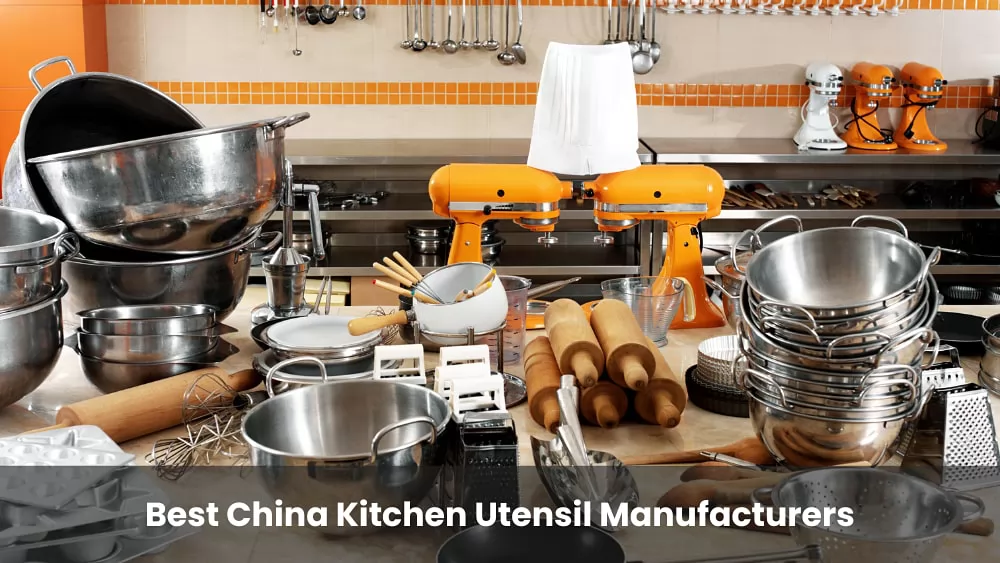 Kitchen utensils are indispensable daily necessities in every family. The global tabletop kitchen products market size was valued at USD 41.68 billion in 2021 and is expected to grow at a compound annual growth rate (CAGR) of 4.1% from 2022 to 2030. China is the country that exports the most kitchen tableware. If you are looking for kitchen utensils, then Chinese manufacturers are your best choice.
If you're thinking about buying some kitchen utensils or tools, here is your ultimate guide to China's top kitchen utensils manufacturers along with a comprehensive buying guide to help you make a better choice.
Top 10 kitchen Utensils Manufacturers in China
We recommend you the top 10 Chinese kitchenware manufacturers and suppliers to choose in 2022. You can choose to contact them to find the best manufacturer for you.
1. Donegoods industrial Co., Ltd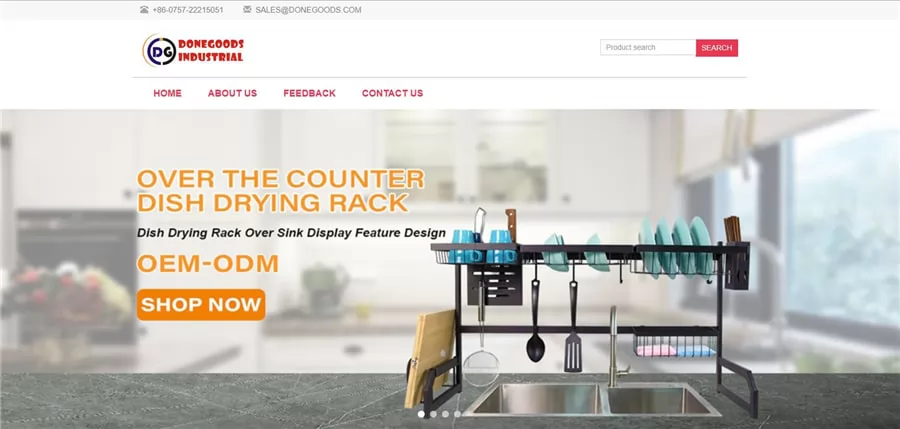 Company Profile
Donegoods industrial Co., Ltd starts in the 2011 year. They are specializing in the Design & Engineering & Manufacturing of Metal/Wooden Display Racks and most kinds of products in Iron/Metal/Stainless steel. With a good reputation for display racks industrial in the USA market, with customers like Circle K, Groger, Coco cola, and Monster energy in the retail industries.
Year Founded: 2011
Location: Dangui Road Daliang Shunde, Foshan, Guangdong, China
Company Type: Manufacturer
Website: https://www.donegoods.com/
Main Products: Kitchen drying rack, Household storage rack, Pot rack, Metal storage rack, Countertop dish rack, Countertop spice rack, Undersink organizer, Fruit vegetable basket, Cup holder
2. GuangDong Infull Industrial Co.,Ltd
Company Profile
INFULL is a kitchen utensil manufacturer specializing in tableware sets and kitchenware series for overseas customers.
INFULL Stainless Steel Cutlery Supplier / Cutlery Manufacturer provides OEM/ODM service which is their core business. They can customize shapes, logos, materials, craftsmanship according to your requirements.
Year Founded: 2005
Location: Tianhe District, Guangzhou, China
Company Type: Manufacturer
Website: https://www.infullcutlery.com/
Main Products: Stainless Steel Cutlery, Kitchen Utensils, Wine Tools, Silicone Baking Pans
3. Bohao Enterprise Ltd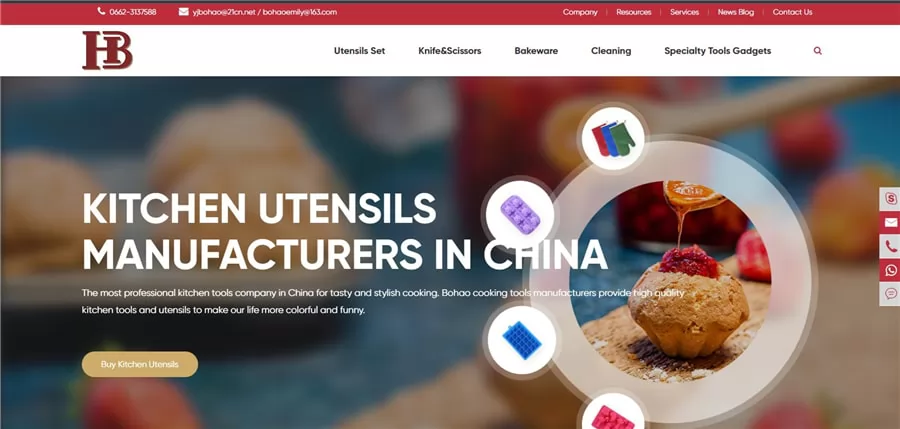 Company Profile
Located in China's knife capital, Yangjiang, BOHAO ENTERPRISE LTD is a kitchen utensils manufacturer in China, that produces high-quality Ceramic knives, silicone kitchen utensils wholesale, useful gadgets for the kitchen, etc.
They pay great attention to quality control. Every product receives a strict and thorough inspection and testing before it reaches the customer. Superior quality products make superior BOHAO ENTERPRISE LTD Reputation.
Year Founded: 2006
Location: JinHeWan, Block2, yangjiang, GuangDong, China, Yangjiang, Guangdong Province, China
Company Type: Manufacturer
Website: https://www.bohaokitchentools.com/
Main Products: Cutlery Set, Baking Pan, Chef's Knife, Scissors, Kitchen Gadgets
4. Living Hardware and Plastic Manufacturing Co., Ltd
Company Profile
Established in 1997, Living Hardware and Plastic Manufacturing Co., Ltd (Brand: LHS) has achieved a reputation as a reliable and consistent manufacturer of kitchen & dining products. They strive to supply great quality to all around the globe for more than 20 years.
Currently their main products include pepper mills, graters, gadgets, coffee and tea filters, oil and vinegar bottles, seasoners and airtight containers.
Year Founded: 1997
Location: Panyu District, Guangzhou City, Guangdong Province, China
Company Type: Manufacturer
Website: https://www.lhs-kitchen.com/
Main Products: Kitchen Plastic Container
5. CHINABRETT Hotel Supplies Co., Ltd.
Company Profile
CHINABRETT is manufacturing Tableware, Flatware, Glassware for Hotels, Restaurants, Wedding banquets, Catering rentals, etc...Which is a modern and international large-scale enterprise with the main production line in porcelain dinnerware, flatware, etc.
Their factory is located in Chaozhou - "China Porcelain Capital", with a total area of up to 15000 square meters and more than 300 employees and about 100 million annual production,well-equipped testing facilities, and a strong technical force, we already have more than 20 years experience in the market.
Year Founded: 1998
Location: Shenzhen City, Guangdong Province, China
Company Type: Manufacturer
Website: https://www.chinabrett.com/
Main Products: Porcelain Tableware, Cutlery, Kitchen Utensils, Cutlery Glassware
6. Zhejiang Hanxin Cookware Co., Ltd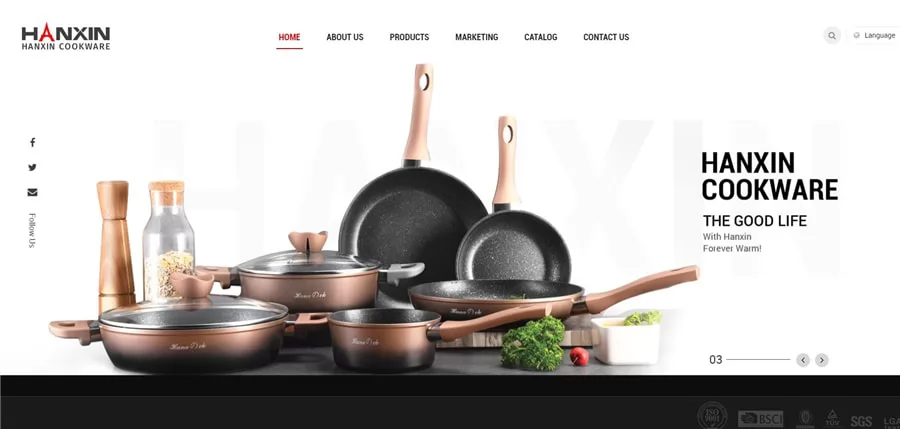 Company Profile
Zhejiang Hanxin Cookware Co., Ltd. is located in Wuyi, Zhejiang, PRC. Established in 1999, their company is specialized in designing, manufacturing, and exporting aluminum non-stick cookware. They also have a strong innovation capability to undertake OEM and ODM orders. Our company covers an area of more than 20000 square meters, with 6 production lines, dozens of technicians and hundreds of employees.
Year Founded: 1999
Location: Wuyi, Zhejiang, China
Company Type: Manufacturer
Website: https://www.hanxincookware.com/
Main Products: Aluminum Forged Cookware Set, Ceramic Cookware Set, Nonstick Cookware Set, Nonstick/ceramic Wok, Nonstick/ceramic Casserole, Nonstick/ceramic Sauce Pan
7. Linkfair Household
Company Profile
Linkfair Household is a manufacturer of kitchen utensils in China, specializing in the design and production of stainless steel cutlery, aluminum drinkware, bakeware and small appliances. Currently has 7 processing plants in China. The monthly production capacity is 5 million pieces.
The kitchen utensils currently produced have been sold to more than 100 countries around the world and have offices in the United States!
Year Founded: 1993
Location: Xinxing County, Yunfu City, Guangdong Province, China
Company Type: Manufacturer
Website: https://www.linkfair.com/
Main Products: Stainless Steel Cookware, Aluminum Cookware, Bakeware, Kitchen Utensil and Others
8. Everwealth
Company Profile
EVERWEALTH is a professional manufacturer and exporter of high-quality kitchen knives, established in Yangjiang city in 2009, with 10,000 square meters of workshops, advanced equipment, and 150 staff. They have a strong team of engineers and designers who work in this field for more than 10 years to develop a variety of new products every year.
Year Founded: 2009
Location: 7 Jintian Road, Beiguan Town, Yangjiang, Guangdong, China
Company Type: Manufacturer
Website: https://www.everwealthkitchenknife.com/
Main Products: Metal handle kitchen knife, Wooden handle kitchen knife, Plastic handle kitchen knife
9. Jiangmen Banyan Metal Co., Ltd.
Company Profile
Jiangmen Banyan Metal Co., Ltd. is located in Jiangmen city, Guangdong province specializes in manufacturing and wholesale kitchen supplies, household, kitchenware, barware, wine products, bathroom products, etc. As an experienced and professional team, they have exported our products to many countries and regions from all over the world, especially Germany, the USA, the UK, etc.​​​​​​​
Year Founded:
Location: Jiangmen City, Guangdong Province, China
Company Type: Manufacturer
Website: https://www.banyanmetal.com/
Main Products: Lunch Box, Heat Diffuser Plate, Mixing Bowls, Storage&Organization, Condiment Set, Defrosting Tray, Taco Holder, Canister Set, Kitchen Basket, Measuring Cup, Spoon, Mug
10. HBD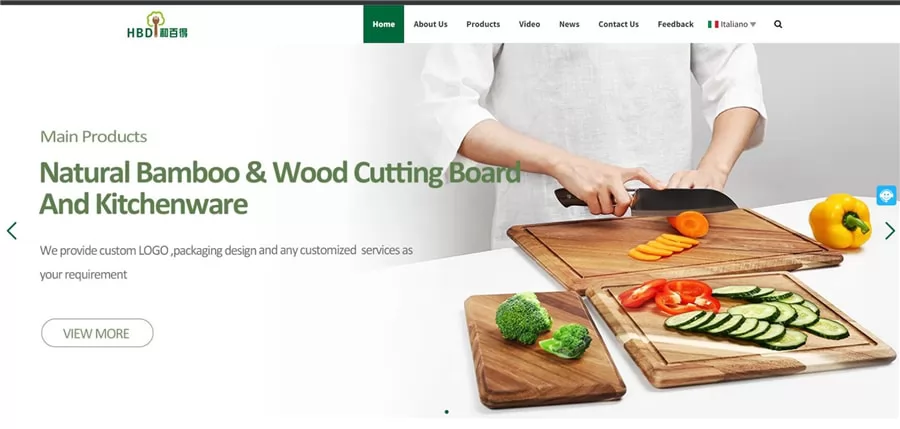 Company Profile
HBD is a professional export-oriented bamboo and wood products enterprise with more than 10 years of professional experience, integrating product design, research and development, manufacturing and sales.
HBD is headquartered in Xiamen, China. HBD is one of the largest manufacturers of bamboo and wood kitchenware and household products in China. They have passed many international audits such as FSC, BSCI, ISO9001, Sedex 4P, and Costco, and their products have also obtained many international food-grade certifications such as FDA and LFGB.
Year Founded: 2010
Location: Xiamen, China
Company Type: Manufacturer
Website: https://www.hbdware.com/
Main Products:
The Benefits of Choosing a Chinese Kitchenware Manufacturer
China is the factory of the world because most of the products you need are made in this country. China is the world's largest manufacturer and exporter of kitchen utensils and household goods. The value of China's kitchenware exports in 2013 was estimated at US$14.72 billion, a figure unmatched by any manufacturer and exporter of kitchenware and home accessories in the world.
High quality and low cost
China has the ability to mass-produce kitchenware while maintaining product quality. You can save up to 30%-150% of your cost if you source your products from a kitchenware factory in China. This will help you make huge profit margins.
Huge manufacturing base
There are hundreds of thousands of kitchenware manufacturers, suppliers, exporters, and factories in China. In China, you can absolutely find kitchen utensils suppliers that meet your needs. And only China can meet your many needs.
Super high productivity
China is the largest producer of raw materials and major components for kitchenware and household products. Manufacturers in China have the highest production capacity in the world. More than 90% of kitchen utensils and stainless steel tableware produced in China are exported to many parts of the factory. China is not called the factory of the world for no reason.
How to Find a Reliable Chinese Kitchenware Purchasing Agent?
Coolosourcing is a professional Chinese kitchen utensil procurement agency, providing the following help to every buyer.
Collect products from suppliers.
Perform detailed factory verification.
Take a confirmation sample from the supplier.
Assist with label and color box design.
Negotiate prices with local manufacturers.
Order tracking after placing an order.
Quality control at every stage of manufacture.
Quality inspection of every component and product.
Free warehouse until shipped.
Consolidation of goods before shipment.
Provide door-to-door logistics services for buyers.
It provides all other one-stop sourcing and supply chain solutions
Conclusion
The above are the top 10 best kitchenware manufacturers in China, which may help you. Are you planning to start using purchasing agents in your business? Or maybe you'll be partnering with a trade show.
As a global factory, China has everything for buyers. However, as in any other country, it is not without fraud and other dishonesty. So if you don't know the local traditions and other details, it can be difficult to find the right supplier and strike a great deal. In these cases, a reliable sourcing agent like Coolosourcing will help you identify suppliers and deliver products to your door.