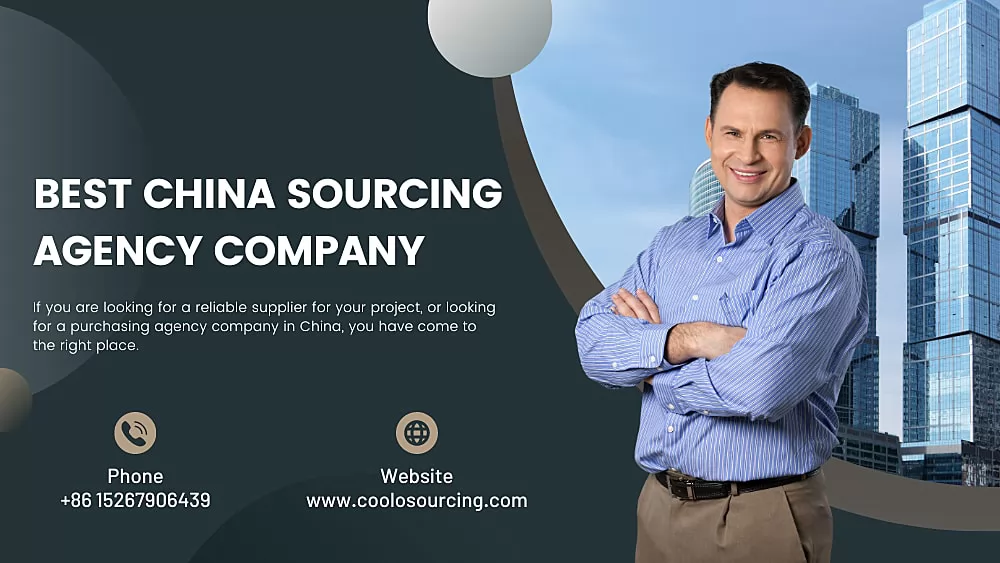 If you are looking for a reliable supplier for your project, or looking for a purchasing agency company in China, you have come to the right place.
There are many advantages to choosing a purchasing agent in China, they can save you hassle, reduce your costs, and be able to guarantee the quality of your products.
In this article, we have selected 10 of the best sourcing agencies in China. This is an exclusive list backed by research into market demand, annual revenue, customer satisfaction and reputation through 2023.
So please help yourself choose any of these purchasing companies based on your budget, location, or preference.
How Does China Sourcing Agent Work?
China's purchasing agency is a new type of material purchasing mode. Its cheap, efficient and fast features will be recognized by more and more enterprises, and it will become a new choice for many enterprises to reduce purchasing costs.
There are many other services that Chinese sourcing companies can provide. It includes price negotiation, monitoring of the production process and quality inspection. Some of them also offer shipping and logistics services.
Top 10 Chinese Sourcing Agency Companies
The following are the key players of China Sourcing Agency:
| | | |
| --- | --- | --- |
| Logo | Company Name | Serve |
| | Yiwu, China | |
| | Yiwu, China | |
| | Hong Kong, China | |
| | Foshan, China | |
| | Yiwu, China | |
| | Shenzhen, China | |
| | Yiwu, China | |
| | Shanghai, China | |
| | Foshan, China | |
| | Guangzhou, China | |
1. Jingsourcing
Company Profile
Jingsourcing was founded buying in Yiwu in 2015. It's near the Yiwu International Trade City, the world's largest small commodities wholesale market.
As the leading sourcing agent in China, Jingsourcing has successfully helped thousands of sellers worldwide import from China, thanks to their outstanding services and 100+ dedicated staff.
Year Founded: 2015
Location: Yiwu, China
Company Type: China Sourcing Agency Company
Website: https://jingsourcing.com/
2. Coolosourcing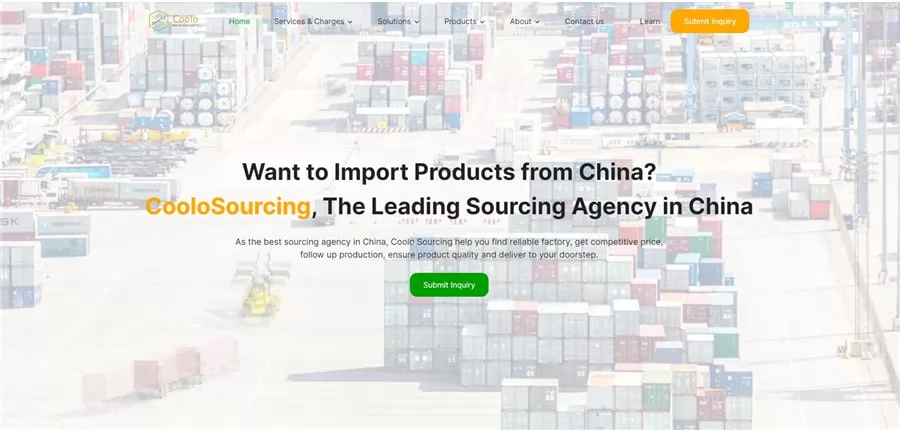 Company Profile
Coolosourcing is a Chinese sourcing service provider,delivering significant and sustainable value to organizations in the procurement of their goods and services from emerging and developed markets.
Whether the objective is to procure competitively from emerging markets for export, to procure for local operations, or to gain global procurement intelligence to make better decisions, Dragon Sourcing is your partner of choice.
Year Founded: 2019
Location: Yiwu, China
Company Type: China Sourcing Agency Company
Website: https://www.coolosourcing.com/
3. LeelineSourcing
Company Profile
Leelinesourcing was registered in Hong Kong in 2009 and started a sourcing business for small and medium-sized sellers. In 2015, they established their current company in mainland China, specializing in product sourcing. They provide professional procurement services to SMEs.
Their service is very comprehensive and covers everything you need to source from China. With our team of experienced professionals, they can find the perfect item you may be looking for in seconds.
Year Founded: 2015
Location: Hong Kong, China,
Company Type: China Sourcing Agency Company
Website: https://leelinesourcing.com/
4. Foshan Sourcing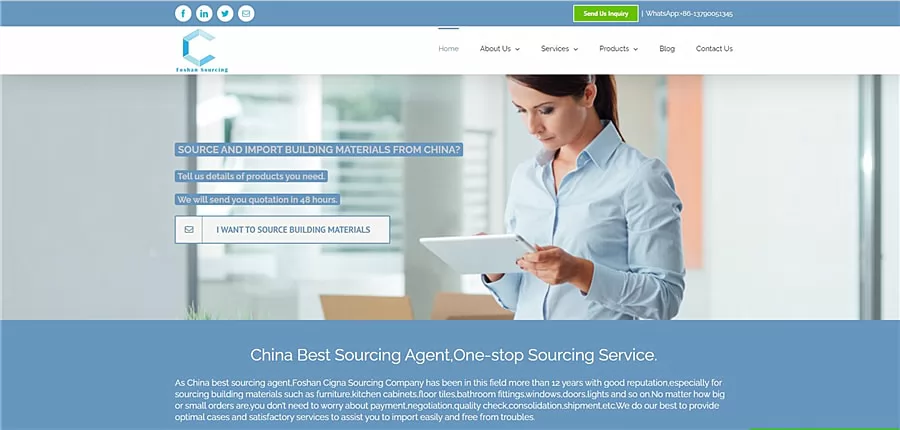 Company Profile
As a purchasing agent in China, Foshan Cigna Sourcing Company has had a good reputation in this field for more than 12 years, especially for purchasing furniture, kitchen cabinets, floor tiles, bathroom accessories, windows, doors, lights, and other building materials.
No matter the size of the order, you don't need to worry about payment, negotiation, quality inspection, LCL, shipping, etc. They are dedicated to providing you with the best case and satisfactory service.
Year Founded: 2010
Location: Foshan, China
Company Type: China Sourcing Agency Company
Website: https://www.foshansourcing.com/
5. Supplyia Sourcing
Company Profile
Supplyia is a "Transparent" China Sourcing Company. They are mainly responsible for developing new product specifications, factory sourcing, quoting, prototyping, negotiating and monitoring production.
Over the past few years, they have sourced thousands of products that have been sold in over 60 countries and they continue to provide the same level of service today.
Year Founded: -
Location: Yiwu, China
Company Type: China Sourcing Agency Company
Website: https://www.supplyia.com/
6. BizShenzhen
Company Profile
Proudly positioned as the Most Transparent Sourcing Agent in China, BizShenzhen is a Total Sourcing Solutions Company based in Shenzhen, China that covers Sourcing, Electronics Manufacturing, Packaging, and Consulting.
Year Founded: 2016
Location: Shenzhen, China
Company Type: China Sourcing Agency Company
Website: https://www.bizshenzhen.com/
7. Meeno Group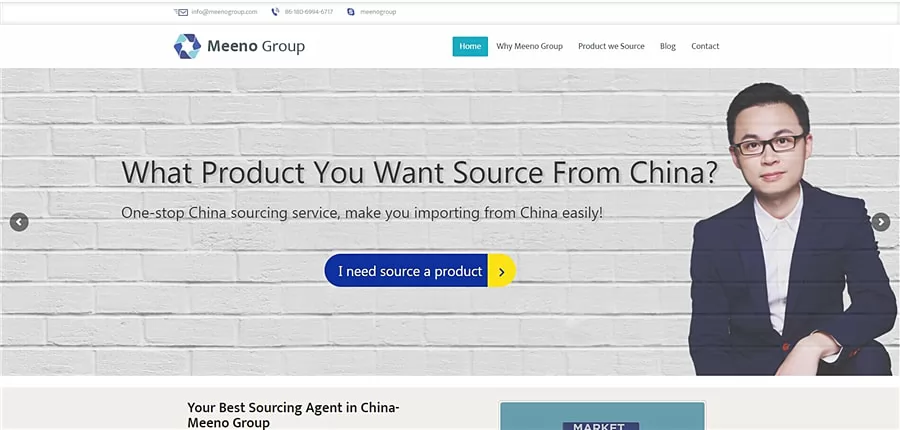 Company Profile
Meeno Group is a sourcing company from Yiwu, China, they are committed to providing their members with the best sourcing services in China. Their corporate values are "always, always, always from the customer's point of view". This is their main focus.
With customer-friendly policies and regional advantages, they can source products at ex-works prices. As a Meeno customer, you will receive efficient procurement services and low shipping costs.
Year Founded: -
Location: Yiwu, China
Company Type: China Sourcing Agency Company
Website: https://www.meenogroup.com/
8. Easy Imex
Company Profile
Founded in 2004, Easy Imex has a team of 20 full-time sourcing managers and logistics coordinators in our Shanghai office, along with 30 quality control inspectors located throughout China.
As a purchasing agency, their mission is to spare no effort to find the best suppliers for their clients' business needs. Their growth as an organization is built on being an integral part of their customers' supply chains in China.
Year Founded: 2004
Location: Shanghai, China
Company Type: China Sourcing Agency Company
Website: https://easyimex.com/
9. Riwick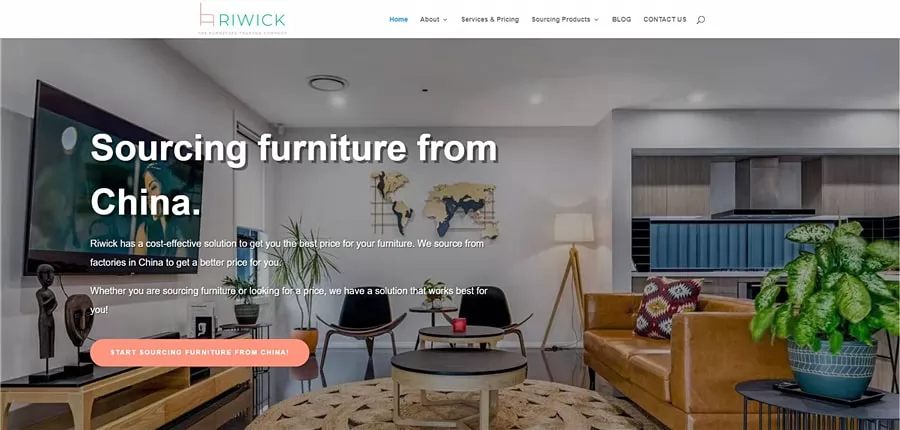 Company Profile
Riwick is a well-known home procurement service company in China. Since 2016, they have been providing home procurement furniture services, focusing on one-stop furniture procurement solutions for residential, commercial and commercial products such as furniture, doors and windows, building materials, bathrooms, tiles, lighting and more.
Since 2020, they not only provide purchasing services, but also become furniture material & furniture accessories & furniture hardware & furniture accessories supplier.
Year Founded: 2015
Location: Foshan, China
Company Type: China Sourcing Agency Company
Website: https://www.riwick.com/
10. Tanndy Ltd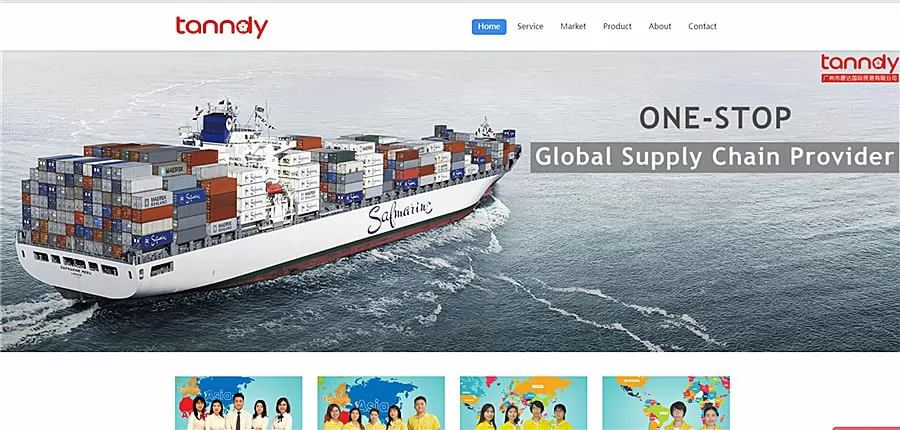 Company Profile
Tanndy Ltd was established in 2006 in Guangzhou, China. They provide sourcing and buying services. Their main business is buying building materials and furniture from China. They also do other things like machinery, prefab houses and election t-shirts.
Their services cover product sourcing, market guidance, order tracking, inspection, consolidation, warehousing and shipping, and more. Their philosophy is to help you buy from the manufacturer to reduce costs while protecting your interests.
Year Founded: 2006
Location: Guangzhou, China
Company Type: China Sourcing Agency Company
Website: https://www.tanndy.com/
China Sourcing Agent Fees – How Much Does It Cost?
When you choose to work with a Chinese sourcing agent, usually most sourcing agents will charge you according to one of the following three pricing policies.
Fixed costs:
It is one of the most commonly used pricing methods in China. Most agents or agencies will charge you a fixed monthly or weekly fee for a specific product or project. In this type of arrangement, the agent will connect you with a supplier and you can directly build the business relationship.
Service fee or commission:
Many agencies also charge buyers as a percentage service fee or commission on the total order cost. As there is no standard, you may have to pay anywhere between 5%-10% of the order cost as sourcing fees.
Get the profit from the difference:
This is a little tricky pricing method. In China, many sourcing companies use this pricing model that involves providing you with suppliers offering the most competitive rates. They usually charge the fees based on the price difference due to the highly competitive rates of the supplier they have found.
(Thinking about pricing? Learn more about China Sourcing Agency Fees)
The Benefits of Choosing China Sourcing Agency Services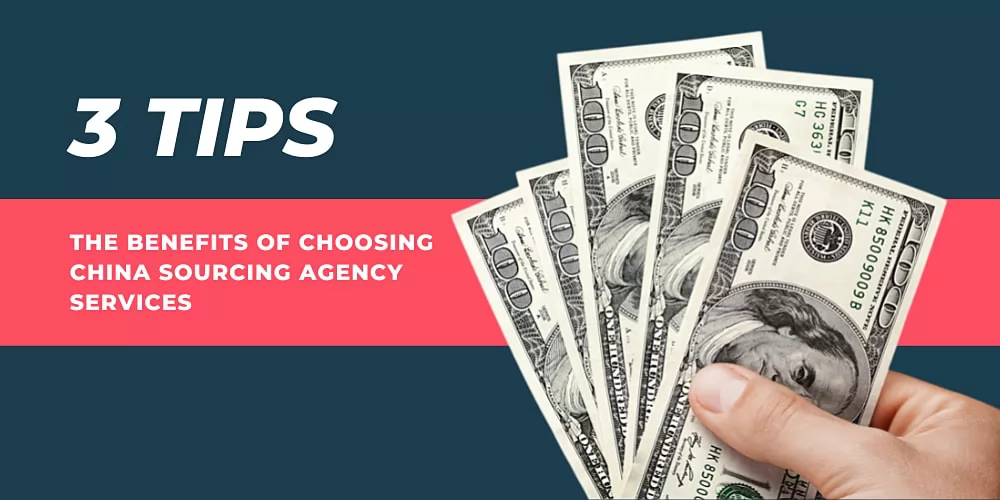 Save costs
China Purchasing Company is a specialized material purchasing enterprise. It has a specialized purchasing and material distribution team, which can effectively reduce purchasing cost.
For customers, the products they need can be purchased with higher efficiency and lower prices. The entire procurement process of the enterprise tends to be simplified and streamlined, and the procurement cost is greatly reduced.
Guarantee the quality of goods
China's purchasing company can survive and develop because it is subject to an invisible constraint, that is, its responsibility to customers. Customers trust it and are willing to entrust their material procurement business to it, so that it can survive and grow. Therefore, it must stand in the customer's position, think what the customer thinks, and worry about the customer's urgency.
In addition, Chinese procurement agency companies specialize in the procurement of certain or several types of materials, have more professional procurement personnel, more accurately grasp the market conditions, and have a better ability to identify the quality of related materials.
Provide fast service
Chinese procurement agency companies have specialized material distribution teams, which have the ability to accurately deliver the materials required by customers to the locations designated by customers in a relatively short period of time.
Moreover, if you have been engaged in the distribution of a certain type of materials or several types of materials for a long time, you will have a better understanding of the performance and transportation requirements of the distributed materials, thereby reducing the loss of materials in the process of loading, unloading and transportation, and saving costs.
Things to Consider when Choosing a China Sourcing Agent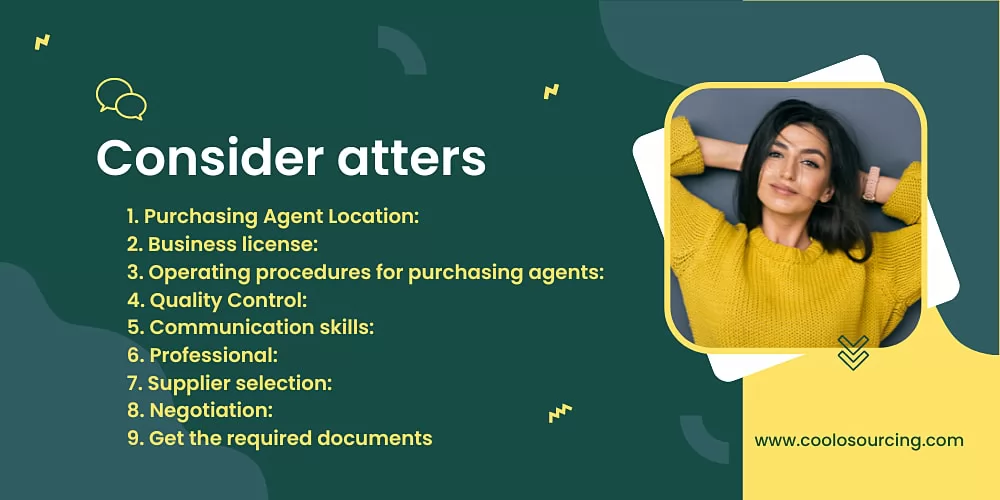 1. Purchasing Agent Location:
When you choose a purchasing agent, you must check their location.
2. Business license:
You must check the purchasing agency's trade and export licenses.
3. Operating procedures for purchasing agents:
Make sure you understand the purchasing strategy and operating procedures of the purchasing agent's China base.
4. Quality Control:
This is the biggest question you must address before hiring any sourcing agent in China.
5. Communication skills:
When you are dealing with institutions or individuals abroad, clear communication is very important and there are no language barriers.
6. Professional:
This is probably the most important feature you should look for in a sourcing agent China base.
7. Supplier selection:
It's always better to deal with a sourcing agent who offers you a choice of manufacturers.
8. Negotiation:
The purchasing agent you choose for your business should be ready to negotiate with suppliers and offer you the best price.
9. Get the required documents
Your purchasing agent should be able to provide you with relevant documentation for the purchasing and shipping process
For details, please click on this article (TIPS on Choosing the Right Source Agent in China)
Frequently Asked Questions about Chinese Sourcing Companies
Is Using a China Sourcing Agent Worth It?

Whether you are a novice or consistent in ecommerce, a China sourcing agent is worth it. They help you source good quality goods at lower prices. You will save your time and focus on other business operations.

The process of getting one can be daunting. Follow all procedures to the latter. Ask for all certifications, reviews and recommendations. If an agent denies you such crucial information, keep searching.
Should I Hire a Sourcing Agent to Source Items from China?

Yes, you should get a sourcing agent. Sourcing agents relieve you of so much that you can't do. Of course, you can do these tasks. But such tasks can be costly, hectic, and time-consuming.

These agents are line a link between you and the manufacturer. They handle everything from production to shipment. Also, they help with disputes.

Your level in business doesn't matter. Get the best sourcing agents if you want to thrive in international trade. They have professional knowledge and experience in importing and exporting.
What is the Cost of Hiring Chinese Agents and Companies?

There are no exact prices; however, you can inquire about sourcing agents and company rates. It will be between 5% and 10% of the order costs most of the time.
How Much Does It Cost to Ship a Sample from China?

The prices of shipping samples depend on many factors like the type of product, added details, and which factory it will come from.
Conclusion
When choosing a Chinese procurement agency or company, you must choose a reliable and professional company. We hope this article can help you choose the right Chinese procurement agency company to provide you with reliable products.
If you want an experienced procurement agent, don't hesitate.
We can help you here. So far, COOLOSORCING is famous for its reliable service and excellent results.
Contact us to help the successful business business.