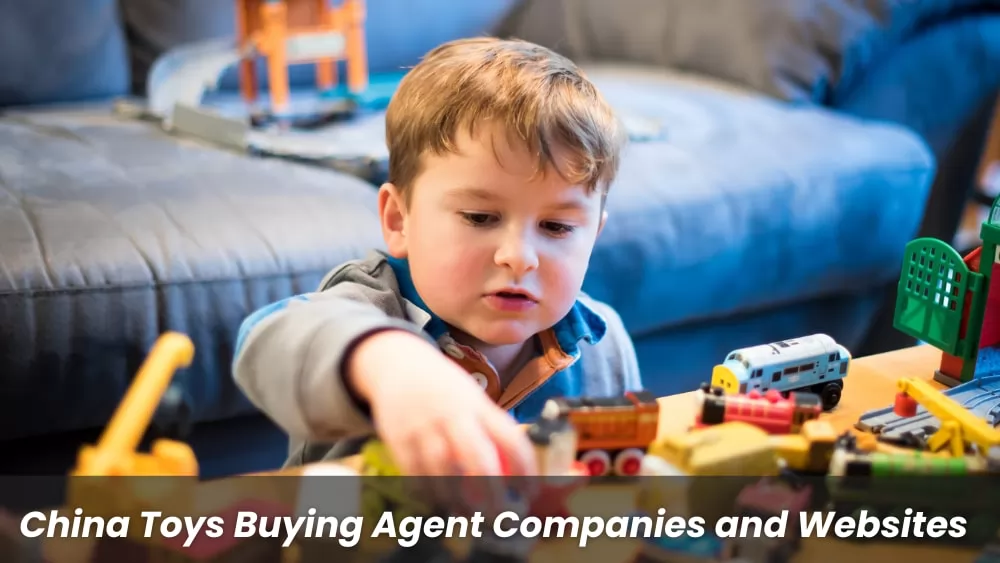 Are you a start-up looking to import only a few toy products at first?
Do you want to resell more toy products in your local area?
Are you having problems finding a reliable toy supplier in China?
If so, then buying toy products from China might be a good decision. They can save you money and time.
Toy sourcing agents are experts in connecting you with toy factories in China to produce your products. They can also help you:
design your product
check your product
Packaging your product
Shipping your product
This article covers the top 10 china toys buying agent websites and companies.
The Chinese toy market is huge and complex, choosing an experienced sourcing agent can provide professional market insights and industry knowledge to help you make informed sourcing decisions.
Sourcing agents usually have an extensive supplier network that can help you find the most suitable manufacturers and suppliers, ensuring product quality and delivery time.
Cultural and Language Advantages
Chinese cultural and language differences can cause communication and understanding problems. A native sourcing agent can overcome these barriers, communicate effectively with suppliers, and reduce the risk of misunderstandings.
Purchasing agents are familiar with Chinese business culture and negotiation skills, and can help you achieve more favorable agreements in terms of price, delivery terms, etc.
Agents can assist you in quality control to ensure that products meet your requirements and standards, reducing the possibility of quality problems and returns.
An experienced procurement agent can help you identify potential risks and take corresponding measures, thereby reducing problems and challenges that may be encountered during the procurement process.
It takes a lot of time and energy to find suppliers, negotiate, conduct quality inspections, etc. in China by yourself. A purchasing agent can handle these matters for you, freeing you to focus on other core business.
Purchasing agents can provide customized services according to your needs to meet your specific procurement requirements.
Here is a list of the top 10 china toy buying agents and sourcing companies in china. If you are interested in purchasing agency services in China and are willing to pay a fee to have them provide services for you, then you can contact them!
1. Coolosourcing Ltd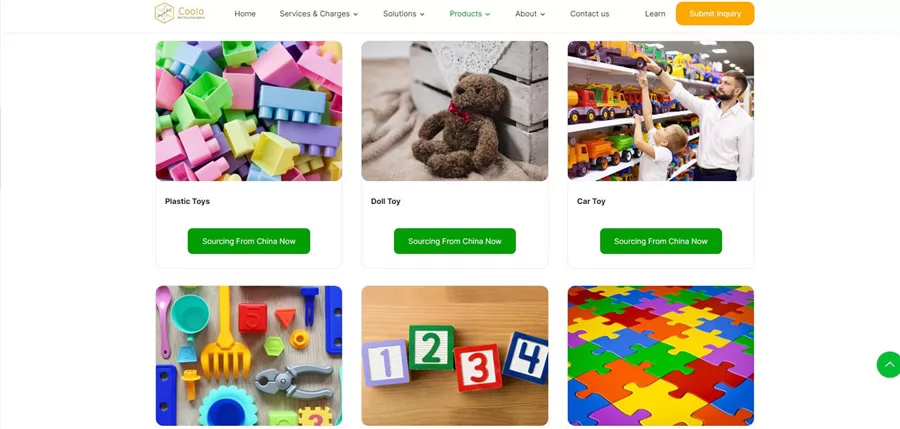 Coolosourcing Ltd. is a China-based toy buying company based in Yiwu. They work with a variety of clients in the US, South America, Europe, Australia and Asia, sourcing play products on the open market and developing OEM products as needed.
They provide one-stop sourcing solutions for Chinese toys, including product sourcing, customization services, supplier selection, OEM & ODM, factory audits, order follow-up, quality control, shipment, cargo transportation tracking, and financial support.
Headquarters: Yiwu, China
Website: https://www.coolosourcing.com/toy/
Here are the services they provide
Plush Toy

Wooden Bamboo Toys

Paper Toy

Baby Toys

Electronic Plastic Toys

Non-electronic Plastic Toys

Riding Products

Brain Game

Inflatable Product
2. Union Service Co.,ltd.
Union Service Co.,ltd. is a veteran toy exporter in China with more than 15 years of export experience, exporting and wholesale toys of various age groups.
Includes crafts, baby and toddler toys, construction toys, character store, collectible toys, dolls and accessories, dress up and role play games, playsets, slot machines and tracks, STEM and learning toys, stuffed animals, preschool toys, novelty toys, etc.
They provide OEM and ODM, and a dedicated design team to provide you with unique services. Generally, they ask for amounts up to $10,000.
Headquarters: Yiwu, China
Website: https://www.yiwubuying.com/toys/
Here are the services they provide
Decompression Toys

Play Toys

Building Blocks Toy

Beach Toy
3. TonySourcing Ltd
TonySourcing provides a wide range of toys and gifts to global buyers. They are located in Yiwu and Shantou, China, behind more than 5000 toy manufacturers and 10 top toy wholesalers and distributors supplying the market.
For toy importers, they provide toy market and factory visit guidance service and one-stop follow-up process, including order follow-up, payment, quality control and shipment.
Headquarters: Yiwu, China
Website: https://tonysourcing.com/catalog/
Here are the services they provide
Baby Toys

Wooden Toy

Remote Control Toys

Plush Toy

Dinosaur Toy

Wooden Block

Game Toys
4. Sellersunion Inc
Sellersunion is a leading toy buying company in China with 23 years of experience in import and export, with a warehouse of 20000 square meters and a showroom of 10000 square meters. They have established stable cooperative relationships with more than 5,000 Chinese toy manufacturers.
Headquarters:
Company Type: Manufacturer
Website: Yiwu, China
Here are the services they provide
Plush Toys & Dolls

Vehicles and Electric Toys

Ride-on Toys

Scooter and Fidget Toys

Brain Game
5. JustChina Inc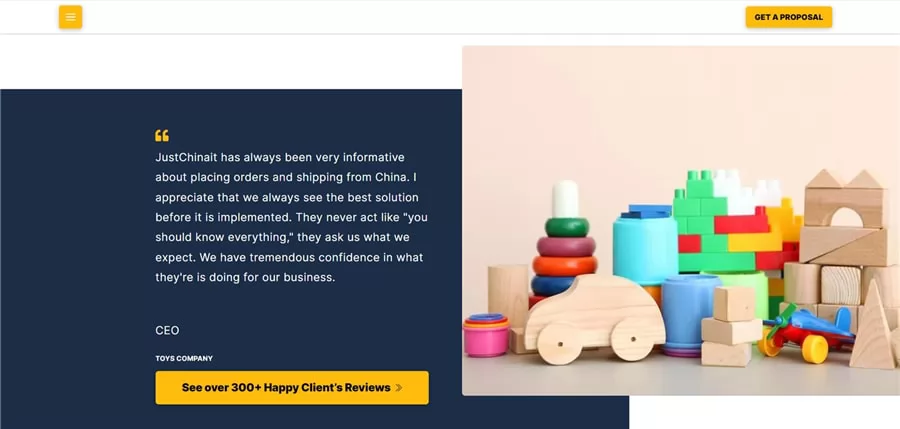 JustChinait is the leader in one-stop China toy wholesale service. You can always get the best source for toy supplies from them.
Their professional team can help you from sourcing to delivery of Chinese goods. Their goal is to increase your profit margins. As profits grow, you can achieve your business goals.
Headquarters: Shenzhen, China
Website: https://www.justchinait.com/china-toys-wholesale-services/
Here are the services they provide
Inflatable Toys

Dolls and Educational Toys

Plastic Toys
6. Dragon Toy Service Inc
Dragon Toy is a toy buying company based in China, but serving global clients looking to import toys from China.
Considering the risks involved in sourcing toys from China, Dragon Toy seeks to safely eliminate any inconvenience that people may experience when trying to purchase Chinese toys from suppliers or toy factories.
Headquarters: Yiwu, China
Website: https://www.dtsupplier.com/catalogue/
Here are the services they provide
Baby Toys

Beach Toy

Wooden Block

Drone Toy

Inflatable Toys

Jigsaw Puzzle
7. Goodcan Group
Goodcan Group has been a world-class toy buying company since 2002, providing value-added one-stop service, whether you are a wholesaler, retailer or online store, they can help you find reliable Chinese toy manufacturers, follow up Produce, check quality and ship to your country.
Headquarters: Yiwu, China
Website: https://www.goodcantrading.com/wholesale-toys-buying-agent/
Here are the services they provide
Baby Toys

Building Blocks Educational Toys

Electric Toys

Plush Toy

Toy Car
8. Baoyue Import & Export Inc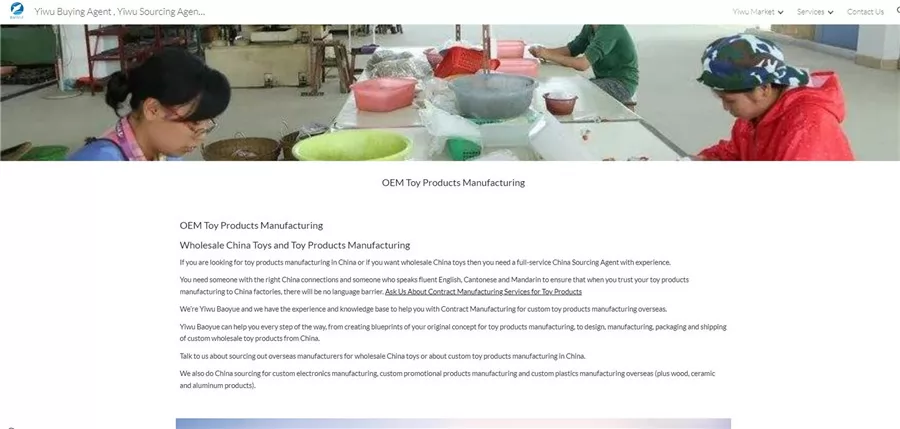 They are a professional toy purchasing company in Yiwu. They have the experience and knowledge base to help you with contract manufacturing of custom toy products overseas.
From creating blueprints for your toy product manufacturing initial concept, to custom wholesale toy product design, manufacture, packaging and shipping from China.
Headquarters: Yiwu, China
Website: https://www.yiwupromos.com/
Here are the services they provide
Bendable Toy

Plush Toy

Plastic Toys

Toy Car
9. Maple Eye Toys Inc
Maple Eye Toys has been a wholesale supplier and buyer of toys in China since 2016. They specialize in supplying novelty toys, plush toys, baby toys, outdoor toys, educational toys, inflatable toys, etc. to overseas toy importers. In the past 5 years, they have successfully helped more than 300 customers from more than 50 countries to import toys from China.
Headquarters: Yiwu, China
Website: https://mapleeyetoys.com/toys-china-sourcing-agent/
Here are the services they provide
Toys Market

Sensory Fidget Toys

Outdoor Toys

Wooden Toys

Plush Toys

Educational Toys

Kitchen Playsets

Makeup Toys
10. Meeno Group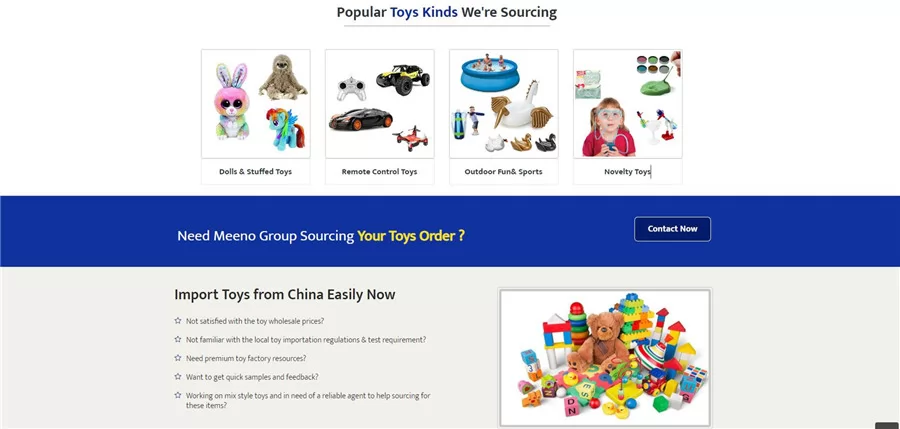 At Meeno, they provide a complete toy sourcing service in China. Their services include but not limited to: quality inspection, buying toy products in China, warehouse storage, customs clearance and ship management. Their team has an average of 5 years of purchasing experience and is very easy to work with.
Headquarters: Yiwu, China
Website: https://www.meenogroup.com/toys-sourcing-agent/
Here are the services they provide
Dolls & Stuffed Toys

Remote Control Toys

Outdoor Fun& Sports

Novelty Toys
The toy buying agency company in China will charge you 3-15% commission based on your order cost. Usually, the percentage charged will decrease as your order size increases.
For example, here is the cost of Coolosourcing, a sourcing company I have used in the past.
| Product Value | Service Fee |
| --- | --- |
| Less than $1,000 | $100 |
| $1,000-$2,000 | 9% |
| $2,000-$3,000 | 8% |
| $3,000-$5,000 | 7.5% |
| $5,000-$7,000 | 7% |
| $7,000-$10,000 | 6.5% |
| $10,000-$15,000 | 6% |
| $15,000-$20,000 | 5.5% |
| $20,000-$25,000 | 5% |
| $25,000-$30,000 | 4.5% |
| Over $30k | 4% |
The manufacture of toys involves various raw materials such as plastic, metal, wood, etc. Fluctuations in raw material prices will directly affect the cost and final selling price of toys.
China's labor cost will affect the price of toys to a certain extent. Changes in worker wages can affect manufacturing costs and thus the pricing of toys.
Changes in the exchange rate
If the exchange rate of RMB against other currencies changes, it may affect the transaction between the exporter and the importer, thereby affecting the price of the toy.
Advanced technology and innovative design often increase manufacturing costs, but may also increase the added value and selling price of a product.
If a certain type of toy is very popular in the market, the short supply may cause the price to increase. Conversely, lack of demand could lead to lower prices.
Regulations and Standards
Compliance with regulations and standards in different countries and regions may require additional testing and certification, which may increase production costs.
Shipping and logistics costs
Shipping, customs clearance, and international logistics costs also have an impact on toy prices.
High competition in the market may drive manufacturers to lower prices to attract consumers, while less competition may lead to higher prices.
Certain toys may be in higher demand during certain seasons or holidays, which can affect price fluctuations.
Government tax policies, trade policies, etc. may also affect the price of toys.
1. What is the payment terms?
Is there a deposit involved and when does the purchasing agent receive payment? Some resellers require upfront payment, while others allow you to pay when the product is ready to ship.
2. Is there any guarantee for late shipment or poor quality goods?
No production run is smooth sailing and it is important to have contingency plans in place.
3. How much do they cost?
Every sourcing agent offers a different fee structure. Be sure to negotiate favorable terms if you decide to use their services long-term
Choosing a reliable China toy sourcing agency company is crucial to finding high-quality, competitively priced toy suppliers. With so many options available, through in-depth research and comparisons, you can find the agency that best suits your needs. These top China toys sourcing agency companies and websites provide you with convenient sourcing channels and help you stand out in the highly competitive global market!