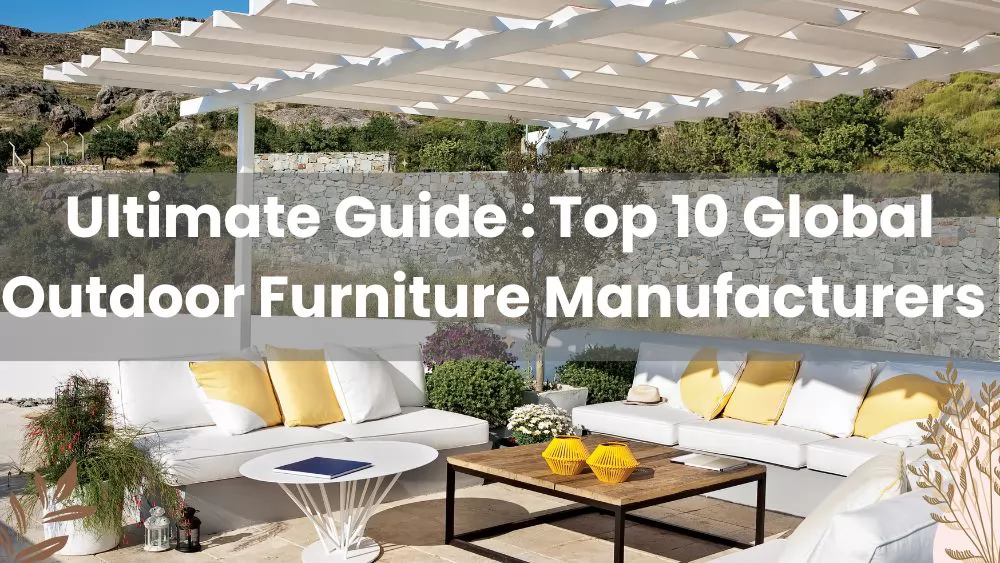 Are you looking for a reliable outdoor furniture manufacturer? I'd say you've come to the right place.
Mainly used to bring comfort and pleasure to balcony spaces, outdoor furniture is designed to withstand any climatic conditions such as heat, cold and rain.
The following editor will introduce some professional outdoor furniture manufacturers and company information for you, hoping to help you find the right manufacturer.
The outdoor furniture market size was valued at over USD 15.7 billion in 2020 and is expected to expand at a CAGR of over 5.9% from 2021 to 2027. Fast-paced city life and the economic capacity of a growing population allow them to spend on entertainment such as dining at rooftop bars and kitchens. The growing demand for Soho Dining is paving numerous growth opportunities for hotels and restaurants looking for rooftop dining spaces. Spacious dining tables and chairs are designed for home balconies, gardens and backyards, thus influencing consumers' purchasing decisions for such products.
What can we infer from the above information?
In the next 12 years, the market of outdoor furniture and chairs will grow wildly, and the demand will continue to increase.

Outdoor furniture is light, flexible and adaptable to multiple scenarios, which will drive the global outdoor furniture market

People buy outdoor furniture for their gardens to socialize

Now, we need to choose the right supplier to occupy the market
Quality of Materials

Craftsmanship

Design and Style

Comfort

Maintenance Requirements

Price and Budget

Warranty

Reviews and Reputation

Environmental Considerations

Shipping and Delivery

Customer Support

Long-Term Availability

Local Regulations
1.Today's Patio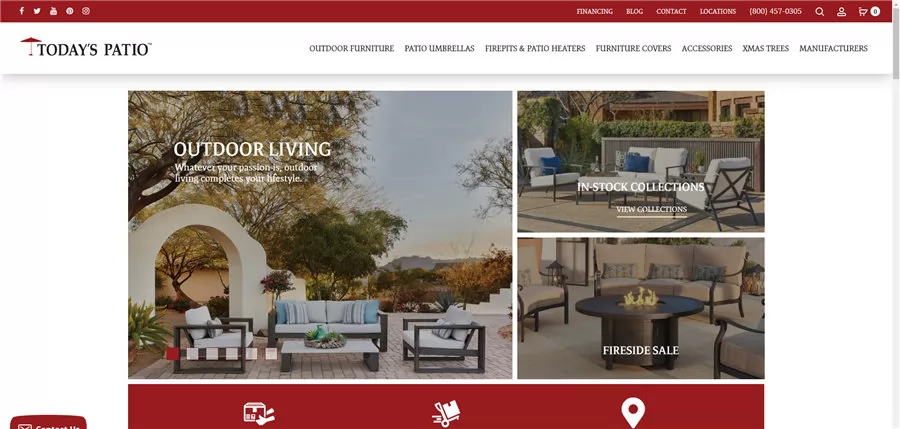 Company Profile:Today's Patio is a manufacturer of custom outdoor furniture for the world. Over 40 years ago, they opened the first Today's Patio showroom in Phoenix with a simple vision: to provide an unparalleled outdoor furniture buying experience. With a clear focus on value, quality and personalized service, they are proud to offer their customers a shopping experience that only a family owned business can provide.
Location: 15500 N. GREENWAY-HAYDEN LOOP SCOTTSDALE, AZ 85260
Company Type: Manufacturer
Website: https://todayspatio.com/
Main Products:Today's Patio,pool & Patio Furniture,outdoor Furniture,patio Umbrellas,firepits & Patio Heaters,furniture Covers,accessories
2.
Poly-Wood, LLC
Company Profile:POLYWOOD is a manufacturer with three decades of experience crafting outdoor furniture that can withstand all four seasons and a range of climates, including hot sun, snowy winters, salt spray and high winds. Unlike traditional wood furniture, POLYWOOD furniture never needs to be sanded, painted or stained.
Location: 1000 POLYWOOD Way Syracuse, IN 46567
Company Type: Manufacturer
Website: https://www.polywood.com/
Main Products:Adirondack Chairs & Sets,rocking Chairs & Sets,coffee & Accent Tables,dining Furniture,deep Seating & Sets,benches,swings & Gliders,chaise Lounges & Sets,bar & Counter Furniture,accessorie
3. Woodard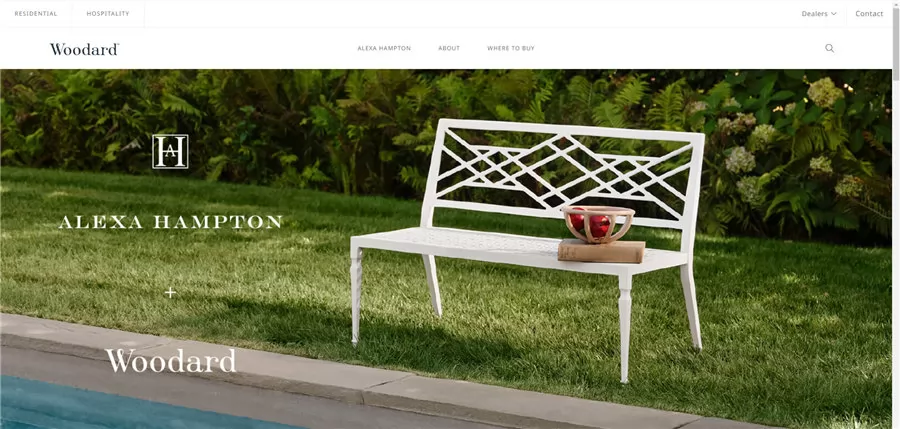 Company Profile:For over 150 years, Woodard has been one of the industry's manufacturers in the design, manufacture and distribution of classic outdoor patio furniture. From contemporary outdoors to timeless classics, they've always created yard art.They want you to enjoy your yard, which is why they pay close attention to the product design and cushioning that make Woodard products so comfortable. You'll feel just as comfortable knowing that every product is backed by an industry-leading warranty.
Location: 13625 NE 175th Street Woodinville, WA 98072 US
Company Type: Manufacturer
Website: https://www.woodard-furniture.com/
Main Products:LORENZO,SAN MICHELE,TUORO
4. Classic Patio Inc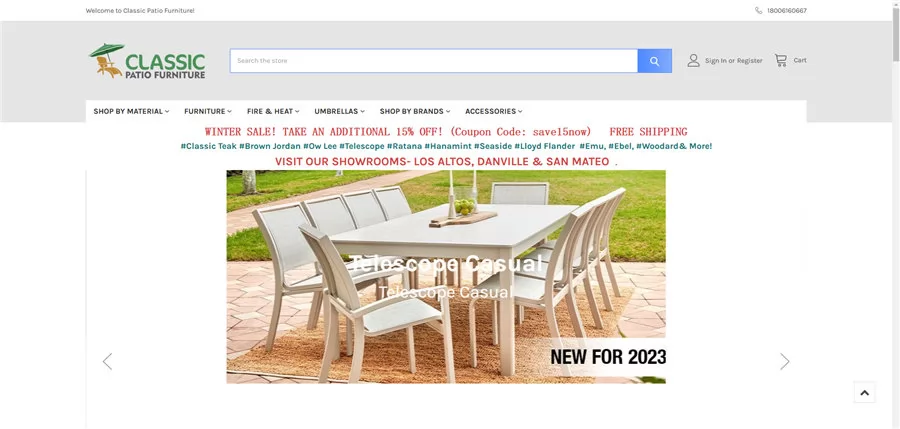 Company Profile:Classic Patio Inc, formerly J & M Decorations, Inc., has been serving local and national customers since 1999 as a manufacturer of quality outdoor furniture. They maintain three showrooms and a 12,000 square foot warehouse in Hayward, CA to provide timely service to customers in the San Francisco Bay Area.
J & M Decorations Inc (Classic Patio) acquired Tom's Outdoor Furniture in Redwood City in 2015 and The Patio & Fireplace in Danville in 2019. Both stores have been well known in the Bay Area since 1999. New owner and president Harry Singh decided to run the two stores as separate name entities due to the well-known brands and launched an online store under ClassicPatio.com.
Location: 5084 El Camino Real Los Altos. CA 94022
Company Type: Manufacturer
Website: https://classicpatio.com/
Main Products:Chaise Lounger Cushion,Steamer Chair Cushion,Classic Teak Adirondack Chair
5. YARDBIRD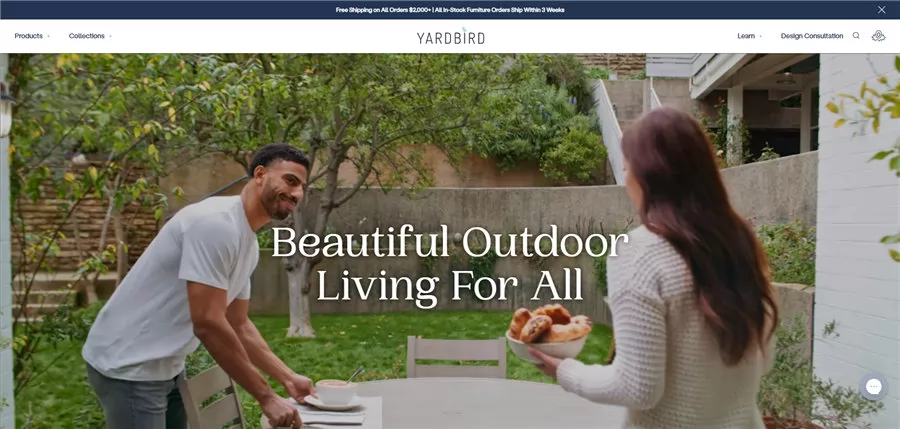 Company Profile:YARDBIRD is an industry-leading manufacturer of outdoor furniture and they take great pride in the quality and workmanship of their furniture. If you don't like your furniture, please call us within 30 days of receiving your order and they will gladly return any of our products as long as it is in brand new condition. They do not accept returns of furniture that is not in like-new condition, so please be aware of this before you start using Yardbird furniture.
Location: Minnesota/Western Wisconsin
Company Type: Manufacturer
Website: https://yardbird.com/
Main Products:Sofa Sets,Loveseat Sets,Dining Sets,Conversation Sets,Fixed & Swivel Chairs,Chaise Lounges,Fire Table Sets
6.
GP Toparts Manufacture (Anhui) Co., Ltd.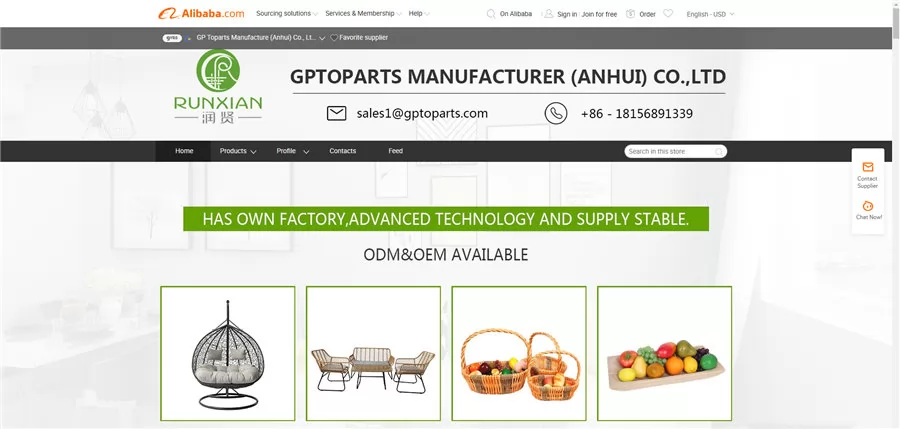 Company Profile:Anhui Jinpu Chuang Products Co., Ltd. is an outstanding manufacturer of outdoor furniture in China. Their phase wood products and pear wood products are beautiful in shape and high in quality, and are very popular among customers. Realistic trees, faux rattan hanging baskets, pet hanging baskets, chairs and more. The products produced by Anhui GPTOPARTS Co., Ltd. are comfortable, durable and unique in style, and have won unanimous praise from consumers. In the cooperation with domestic and foreign customers, they always provide customers with good product quality and service. The products are exported to Europe, North America, East Asia, Southeast Asia, the Middle East, Hong Kong and Macao and other countries and regions. It can be designed, processed, or customized according to customer requirements.
Location: Yingzhou District, Fuyang, Anhui, China
Company Type: Manufacturer
Website: http://www.gptoparts.com
Main Products:Swing Chair,Wicker Basket,Wooden Crafts,outdoor furniture,Vase
7.
Taizhou Jiaming Outdoor Products Co., Ltd.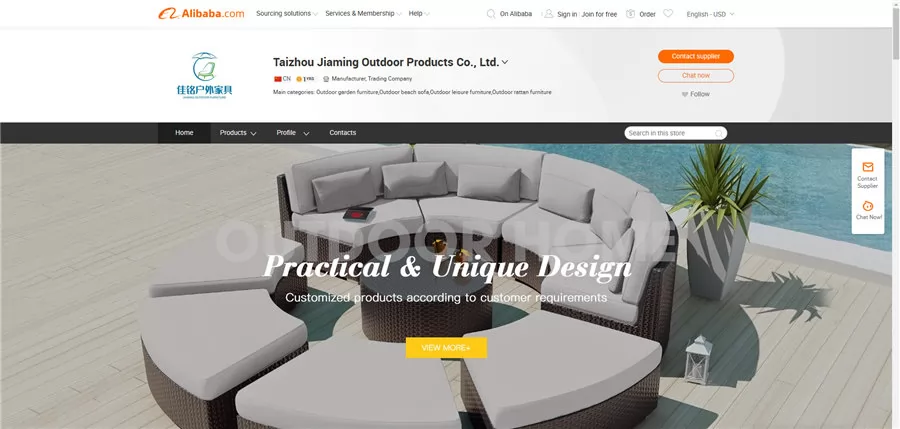 Company Profile:Taizhou Jiaming Outdoor Products Co., Ltd. is an excellent outdoor furniture manufacturer in China. The company has always adhered to the business philosophy of "integrity, quality first, service first", serves every customer with the spirit of integrity and dedication, and wholeheartedly provides customers with the highest quality products.
Location: No. 20, Chuangye Avenue, Xuzhuang Street, Taizhou, Jiangsu, China
Company Type: Manufacturer
Website: tzjiaminghw.en.alibaba.com
Main Products:Outdoor tables and chairs,Outdoor furniture courtyard,Outdoor double sofa,Outdoor three person sofa
8.
Guangzhou Topmax Enterprise Limited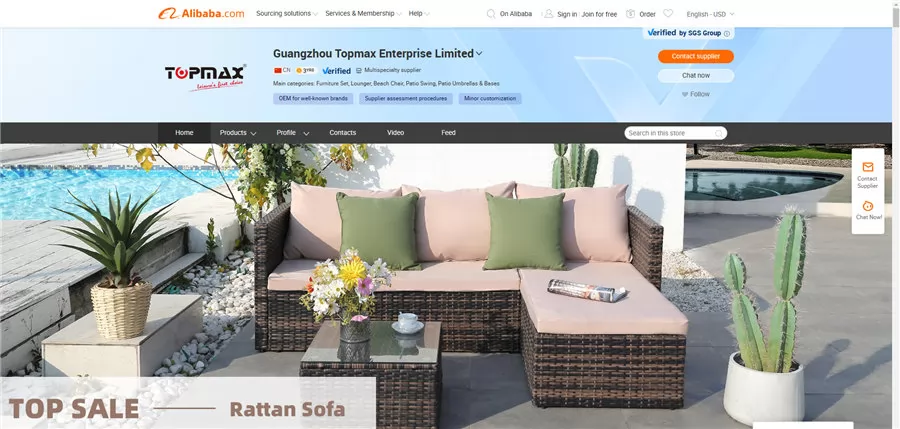 Company Profile:OPMAX Corporation is one of the industry-leading Manufacturers of Outdoor Furniture. They have a joint production base in Guangdong. Ningbo. Xiamen. Qingdao and Hebei. They have more than 200 employees working in the office and 1800 workers in the factory. They achieved a turnover of more than $100 million in 2021. The designed products sell well in dozens of countries in Europe and America.
Location: Floor 2, Self-Compiled 7 Bldg., 399, Yuangang Rd., Guangzhou, Guangdong, China
Company Type: Manufacturer
Website: http://www.topmax.cn
Main Products:Outdoor single sofa,Outdoor leisure garden sofa,Moon bed made of rattan
9.
Ningbo Kaixing Leisure Products Co., Ltd.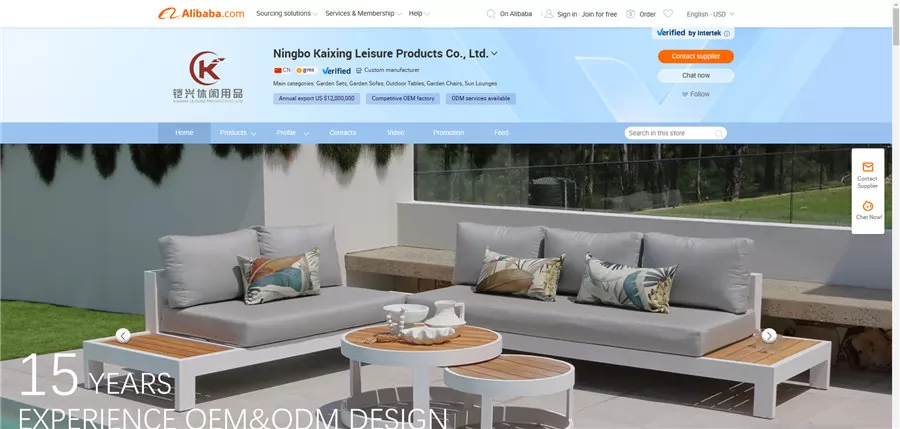 Company Profile:Kaixing Garden Furniture is a high-end outdoor furniture manufacturer located in Ningbo, China. Established in May 2007, they started out as specialist suppliers of rattan garden furniture but quickly expanded their range and are now happy to offer outdoor wicker furniture, outdoor ALU furniture, outdoor lighting, parasols and more.Their team believes that the outside of your home should be cared for as well as the inside and they are dedicated to helping our clients achieve this. By working closely with suppliers for quality control and collection selection, KAIXING ensures that you can get top quality garden furniture to help your garden become an integral part of your home.
Location: No. 1, Zongyi Road, East Zhongshan Road, Gulutou Village, Lizhou Street, Ningbo, Zhejiang, China
Company Type: Manufacturer
Website: http://www.china-kaixing.com
Main Products:Foreign trade garden furnit,Pastoral furniture,Garden rattan furniture
10.
Jinhua Origin Furniture Co., Ltd.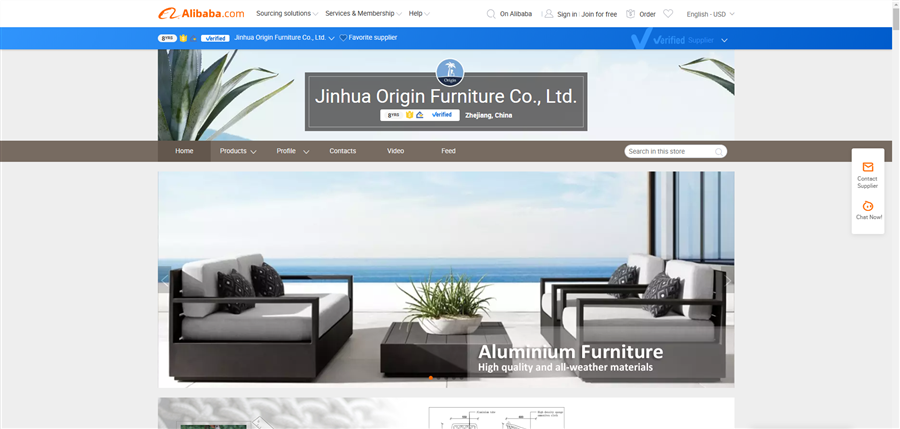 Company Profile:Jinhua Origin Furniture Co., Ltd. is a quality outdoor furniture manufacturer. They pride themselves on their hands-on approach, offering more than just an online service. They're always happy to take your call, whether it's dealing with shipping issues, dealing with product issues, or just offering some friendly sales advice.Whether you're looking for quality rattan tableware or a contemporary outdoor wicker sofa set, they've got you covered. Browse our website for our range of all weather garden furniture.
Location: CRC Cultural And Creative Park, Jinhua, Zhejiang, China
Company Type: Manufacturer
Website: http://www.originjh.com
Main Products:Teak furniture, outdoor rattan furniture, rope furniture, LED furniture
A product sourcing agent is a person who helps companies find and purchase products from manufacturers or distributors. They may work with a wide range of products, from raw materials to finished goods, and their primary role is to help businesses source the products they need at the best possible price and quality. Product sourcing agents often have extensive knowledge of the supply chain and a network of contacts in the industry, which allows them to quickly and efficiently locate the right products for their clients. They may also provide assistance with negotiations, shipping, and other logistics.
Coolosourcing is a professional outdoor furniture sourcing agency, providing the following help for every buyer.
Collect products from suppliers.

Perform detailed factory verification.

Obtain confirmation samples from suppliers.

Assist in label and color box design.

Negotiate prices with local manufacturers.

Order tracking after placing an order.

Quality control at every stage of manufacturing.

Quality inspection of each component and product.

Free warehouse until shipped.

Consolidate shipments before shipping.

Provide door-to-door logistics services for buyers.

It provides all other one-stop procurement and supply chain solutions.
The above are the top ten outdoor furniture manufacturers in the world, I hope it will be helpful to you.
When choosing a Chinese sourcing agency or company, you must choose a reliable and professional company. We hope this article can also help you choose the right China sourcing agency company to provide you with reliable products.
Known for its dependable service and outstanding results, COOLOSORCING provides all other one-stop sourcing and supply chain solutions. If you need, please contact us to find out how we can help you get the best price from China.
Related Reading:
Ultimate Guide : Top 10 Global Cabinet Manufacturers 2022
Ultimate Guide : Top 10 Global Plastic Chair Manufacturers 2022
Ultimate Guide : Top 10 Global Solid Wood booths Manufacturers 2022