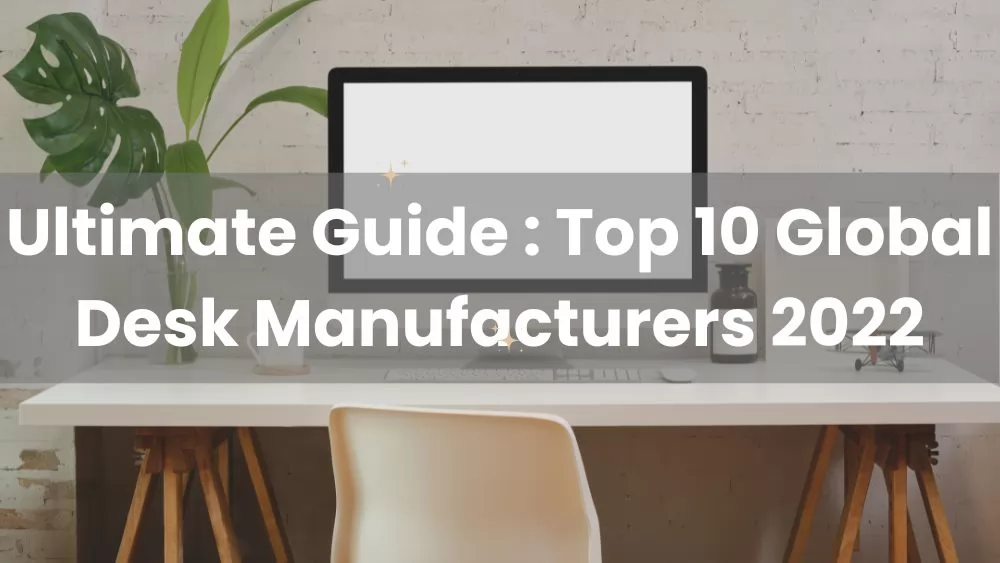 Are you looking for a reliable desk furniture manufacturer? Then congratulations, you have come to the right place!
Desk refers to the desk equipped for the convenience of work in daily life work and social activities.
The following editor will introduce some professional desk furniture manufacturers and company information for you, hoping to help you find the right manufacturer.
Analysis and Prospect of Desk Furniture Market (2023)
Due to the COVID-19 pandemic, the global desk market size is estimated to be valued at USD 6,654.6 million by 2022 and is projected to reach an adjusted size of USD 10.33 billion by 2028, growing at a CAGR of 7.6% during the review period. Taking full account of the economic changes brought about by this health crisis, the global standing desk market by 2021 is expected to be worth USD 1 million by 2028 and grow at a revised CAGR during the post-COVID-19 period increase.
What can we infer from the above information?
In the next 8 years, desks will grow crazily, and the demand will continue to increase.

The demand for office desks has surged as the number of demands from governments and businesses has increased.

Now, we need to choose the right suppliers to occupy the market.
Top 10 Desk Manufacturers in the World
Top 10 desk Manufacturers in the World:
1. DeskMakers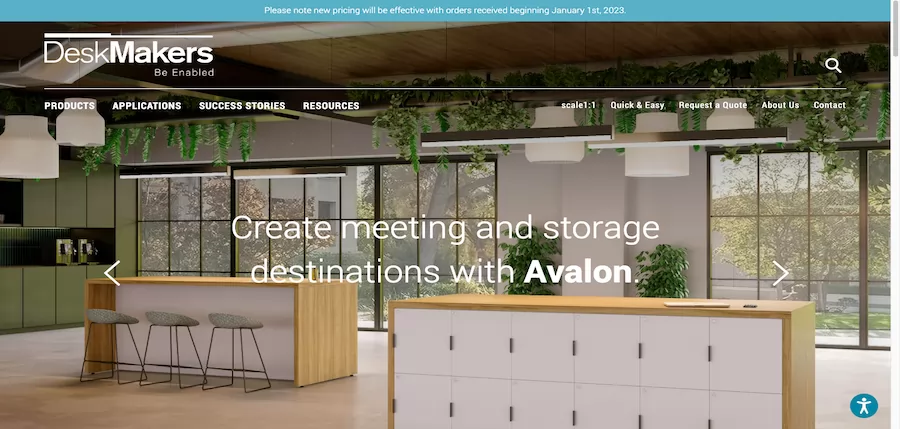 Company Profile:DeskMakers is a well-known manufacturer of desks who are passionate about helping their customers create beautiful office environments. By offering endless finish options, sizes, materials and configurations, DeskMakers is recognized as the ultimate source of office furniture design flexibility. They enable their clients to realize their design vision through their stylish and customizable case goods, desks and tables. Plus, they strive to make the buying process as easy as possible.
Location: 700 S. Flower St. #760 Los Angeles, CA 90017
Company Type: Manufacturer
Website: https://deskmakers.com/
Main Products:Hover Lite,TeamWorx,Hover,Synapse,Meeting Tables,Café Tables,Training Tables,Occasional Tables,Parsons Tables
2. Steelcase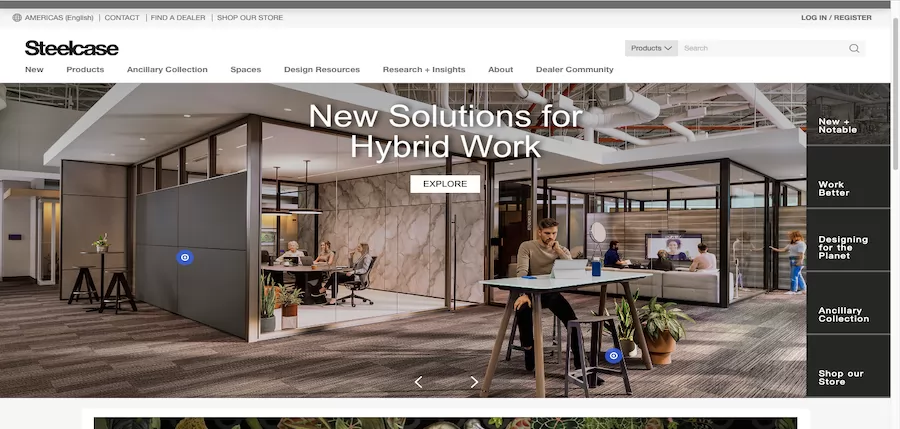 Company Profile:Steelcase is a great desk manufacturer. They lead the way in creating exceptional experiences by offering a range of architectural, furniture and technology products and services designed to help people reach their full potential. Together with their partners, they design spaces that help people work, learn and heal.
Location: Michigan
Company Type: Manufacturer
Website: https://www.steelcase.com/
Main Products:Desk Systems,Desks,Height-Adjustable Desks,Benching,Private Offices,Screens
3. National
Company Profile:National was a very good manufacturer of desks and in 1980 National entered the contract office furniture market with the goal of being the best. Determined to provide better value to customers with shorter lead times, building a brand by successfully delivering products on time and within budget. Customers are attracted by their ability to design and develop innovative products, while providing personal support and an exceptional experience. Today, that foundation still applies. Their exceptional value, combined with design-driven products, on-time delivery, and their dedication to the customer experience set them apart in the furniture industry.
Location: Jasper, Indiana
Company Type: Manufacturer
Website: https://www.nationalofficefurniture.com/
Main Products:Desk + Workstation,Collaboration + Open Space,private office,meeting + chatting,study,lobby + reception,cafe + restaurant
4. Hon
Company Profile:Hon is an industry leading manufacturer of office desk furniture. They see things through the eyes of their customers. They work tirelessly to make doing business with them easy and intuitive every step of the way, every time. They pride themselves on making office furniture that stands the test of time in quality and style. This is how they build relationships with those they serve. Their members are unwavering in their commitment to doing what's right for their customers and furniture dealers.
Location: 200 Oak Street Muscatine, Iowa 52761
Company Type: Manufacturer
Website: https://www.hon.com/
Main Products:Executive Desks,L Shaped Desks,U Shaped Desk,Desks
5. Watson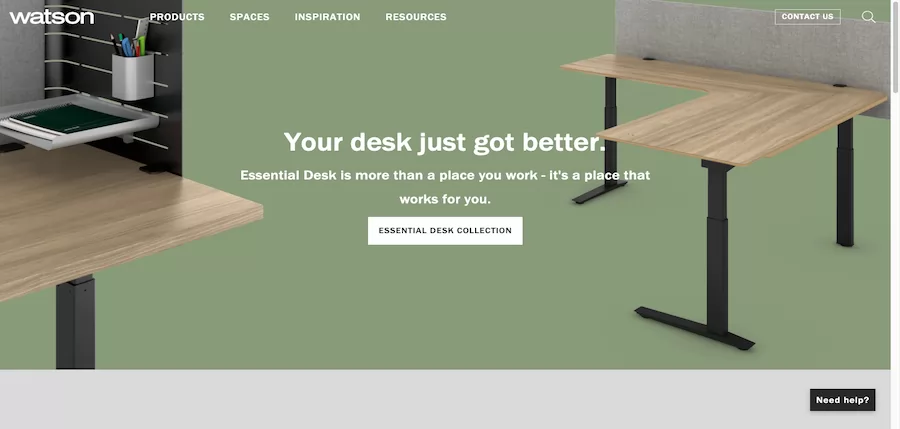 Company Profile:Watson is a manufacturer that designs and builds desks, and everything they do is rooted in soulful design. Firstly, the design is guided by the customer's functional requirements. Sophisticated design allows for a timeless yet understated aesthetic that doesn't scream "look at me." Respect for the executed design, using honest materials and delivering a quality that is very satisfying.
Location: 26246 Twelve Trees Lane NW Poulsbo, WA 98370
Company Type: Manufacturer
Website: https://www.watsonfurniture.com/
Main Products:Essential Desk,C9 Desk,Bahn Desk,Seven Desk,Tia Office,Miro Desk,D9 Desk,M2 Desk,Edison Riser Desk
6.
Foshan Liyu Furniture Co., Ltd.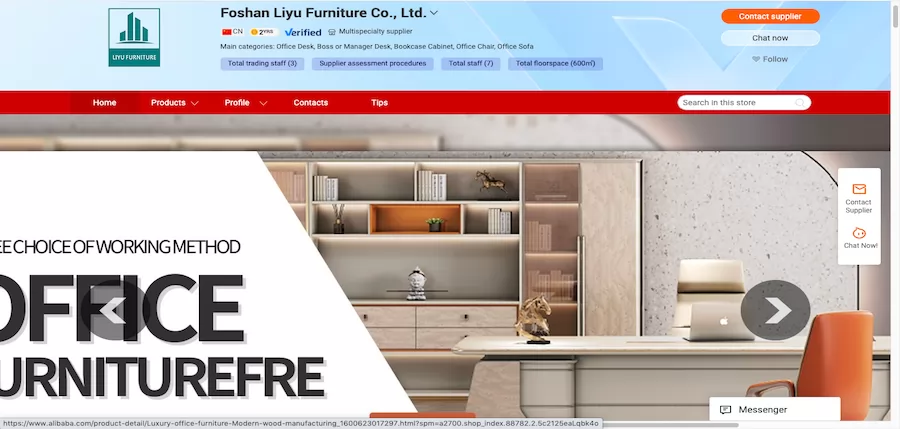 Company Profile:Foshan Liyu Furniture Co., Ltd. is a large-scale manufacturer specializing in the production of middle and high-end desks. It has a large modern standard factory building and a group of excellent management personnel. The company has introduced advanced production equipment, which has formed the congenital conditions for product quality assurance. The company integrates research and development, production and sales. After more than ten years of development, they have made great progress. They always adhere to the leading concept of simplicity and environmental protection, so that every customer can enjoy the office. They are a reliable office furniture supplier with a 5-year warranty. They look forward to more cooperation.
Location: No. 1, Lane 4, Bailian Road, East District Of Shajiao Neighborhood Committee, Lecong Town, Foshan, Guangdong, China
Company Type: Manufacturer
Website: fsliyu.en.alibaba.com
Main Products:Office Table,Staff Table,Supervisor Desk,Manager Table,Glass Table,Training Table,Tea Table
7.
Beijing Bright Hongyang Technology Co., Ltd.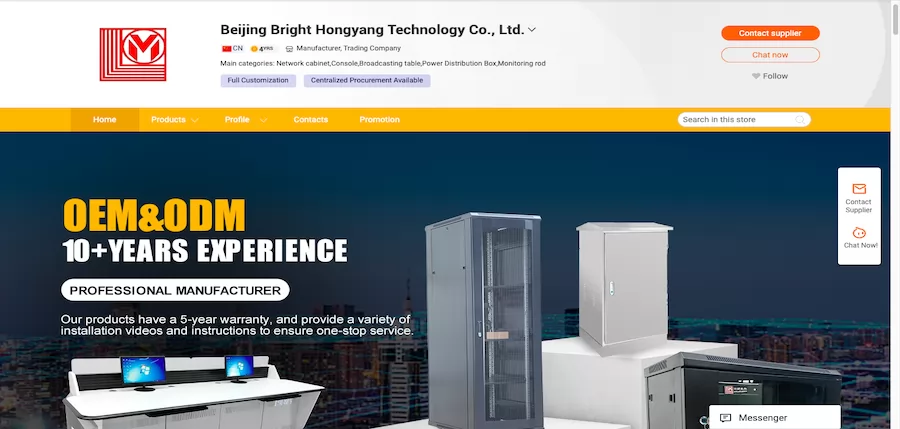 Company Profile:Beijing Guangming Hongyang Technology Co., Ltd. is a professional manufacturer of desks. Their company has a history of more than 10 years since its establishment in 2012. They can also provide OEM and ODM customization, accept any size, any color and shape customization, and also accept drawing customization, and can provide design layout for free, as long as If you have an idea, you can come and bring pictures to him for customization.
Location: Xianghe County Industrial Park, Langfang, Hebei, China
Company Type: Manufacturer
Website: http://www.ruichengjigui.com
Main Products:Office Chair,Gaming Chair,Office Sofa,Conference Table,File Cabinet,Reception Table
8.
Guangdong Yinku Furniture Co., Ltd.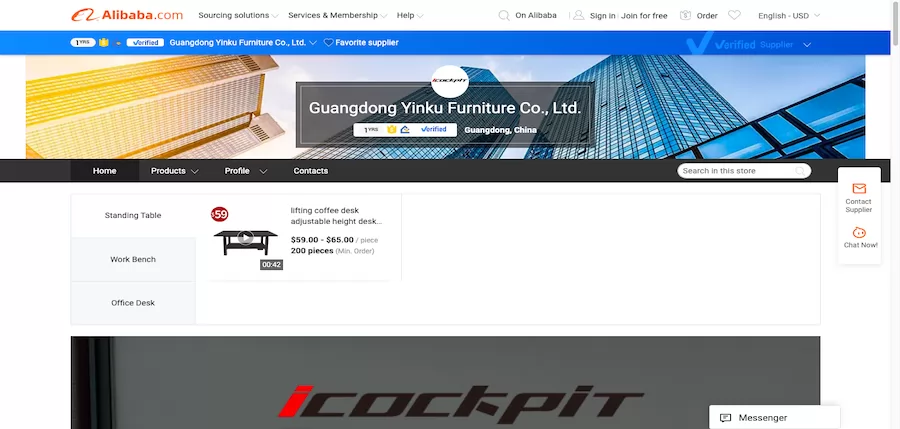 Company Profile:Guangdong Yinku Furniture Co., Ltd. is a manufacturer specializing in the manufacture of desks, established in 2009, focusing on the R&D and production of game desks, electric standing desks and accessories. They are the most professional game furniture OEM and ODM foundry in China.
Location: No. 9-2, Xihai Shaziwei Industrial Zone, Xihai Village, Beijiao Town, Foshan, Guangdong, China
Company Type: Manufacturer
Website: icockpitcn.en.alibaba.com
Main Products:Office Desk
9.
Shaoxing Naite Drive Technology Co., Ltd.
Company Profile:Shaoxing Naite Drive Technology Co., Ltd. is a professional desk manufacturer, has its own factory from materials to desks, and their sales have 8 years of experience in standing desks, so they will know customers better. In response to market demand, their R&D team will follow closely and respond in a timely manner.
Location: Sanjiang Industrial Function Zone B, Sanjiang Street, Shaoxing, Zhejiang, China
Company Type: Manufacturer
Website: http://www.natekj.com/
Main Products:Leg Desk,Motor 2 Legs Desk,Glass Desk,Motor 3 Legs Desk,Motor 4 Legs Desk,Single Motor 2 Legs Desk,Hand Crank Desk
10.
Shengzhou Happyland Commodity Co., Ltd.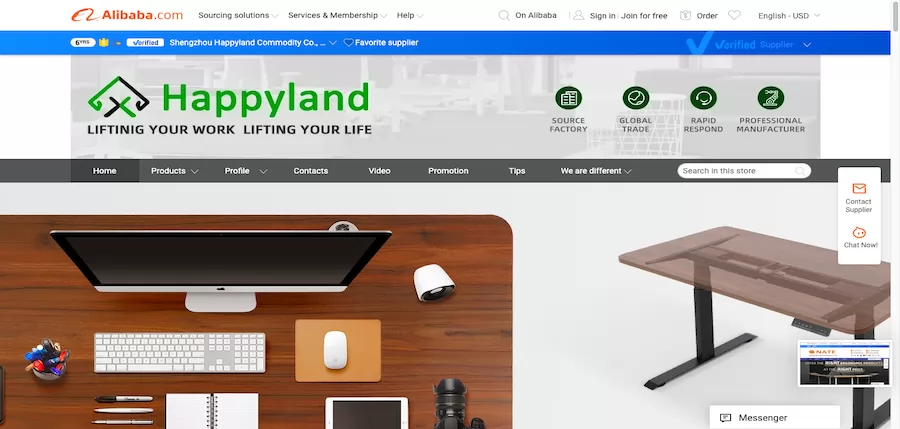 Company Profile:Happyland is a very good desk manufacturer. They have been designing, developing and selling furniture for more than ten years and have always been creative, experienced and dedicated. Many of their products have passed CE, SAA, UL and Rohs tests. Choose a paradise, choose a beautiful way of life.
Location: Zone B, Sanjiang Industrial functional Zone, Shaoxing, Zhejiang, China
Company Type: Manufacturer
Website: http://cnhappyland.com
Main Products:Manager Table,Glass Table,Training Table,Tea Table,Glass Desk,Motor 3 Legs Desk
Benefits of choosing a Chinese Desk Furniture manufacturer
There are several benefits to choosing a Chinese furniture manufacturer for your desk furniture needs:
Cost savings: Chinese manufacturers often offer lower prices than manufacturers in other countries due to lower labor and production costs. This can result in significant cost savings for your business.

Wide selection: China is a major furniture producer and exporter, so there are many Chinese furniture manufacturers to choose from. This allows you to find a manufacturer that meets your specific needs and requirements.

Quality control: Many Chinese furniture manufacturers have strict quality control processes in place to ensure that their products meet international standards.

Customization options: Many Chinese furniture manufacturers offer customization options, allowing you to have your desk furniture made to your specific requirements and specifications.

Strong supply chain: China has a well-developed supply chain and infrastructure, which allows for efficient and reliable production and delivery of furniture.

Strong relationships: Establishing a relationship with a Chinese furniture manufacturer can be beneficial for your business in the long term. Chinese manufacturers value long-term relationships and may be willing to offer discounts or other benefits to loyal customers.
How to Find a Reliable Desk Furniture Buying Agent?
Coolosourcing is a professional Chinese desk furniture sourcing agency, providing the following help for every buyer.
Collect products from manufacturer.

Perform detailed factory verification.

Obtain confirmation samples from manufacturer.

Assist in label and color box design.

Negotiate prices with local manufacturers.

Order tracking after placing the order.

Quality control at every stage of manufacturing.

Quality inspection of each component and product.

Free warehouse until shipped.

Consolidate goods before shipment.

Provide door-to-door logistics services for buyers.

It provides all other one-stop procurement and supply chain solutions.
Conclusion
These are the top 10 desk furniture manufacturers in the world, hope to help the owner. Coolosourcing can be purchased by the general manager of the company, and the product will be delivered to your door. Others hope that through the resolution of the problem, the free resources will be formed and the cooperation will be carried out.
Related Reading:
Ultimate Guide : Top 10 Global Cabinet Manufacturers 2022
Ultimate Guide : Top 10 Global Outdoor Furniture Manufacturers 2022