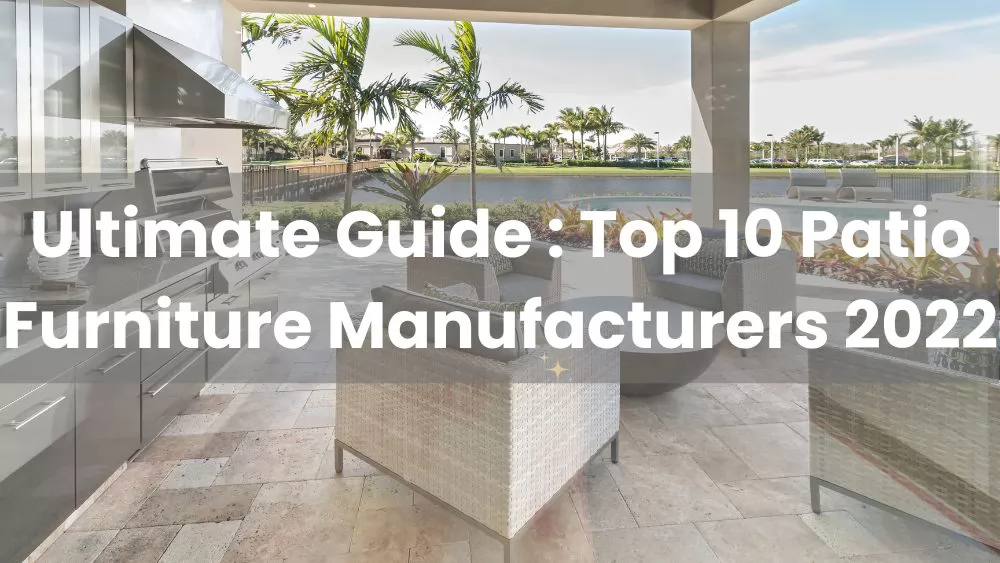 Are you looking for a reliable patio furniture manufacturer? Then congratulations, you have come to the right place!
Patio furniture, as the name suggests, is furniture placed inside and outside the courtyard. patio furniture refers to outdoor leisure tables, leisure chairs, tents, sun umbrellas, hanging baskets, swings, etc., as well as indoor ironing boards, drying racks, tables, beds, sofas and other furniture. and items.
The following editor will introduce some professional patio furniture manufacturers and company information for you, hoping to help you find the right manufacturer.
Analysis and Prospect of Patio Furniture Market (2023)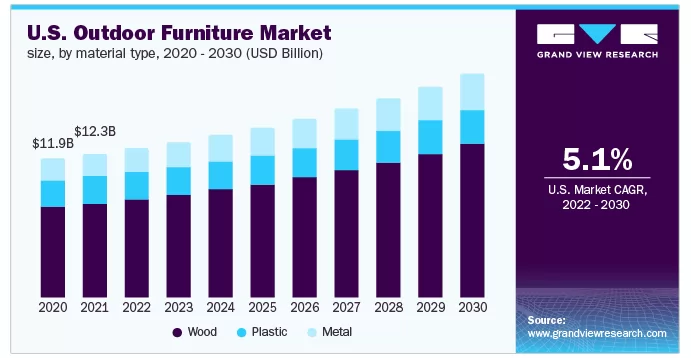 The global outdoor furniture market size was valued at USD 44.23 billion in 2021 and is expected to expand at a compound annual growth rate (CAGR) of 5.7% from 2022 to 2030. The growth of the global industry is primarily driven by the rising need for outdoor furniture products in hotels, resorts, open spaces, and public gardens. These trends are mainly observed in seaside areas, hill stations, scenic beauty places, and historical monuments. Thus, the increasing number of hotels and restaurants may drive industry growth during the forecast period. In addition, consumer attention is changing to enhancing outside areas to provide more aesthetically pleasing and comfortable designs in balconies, gardens, and porches, supporting industry development.(see tail:https://www.grandviewresearch.com/industry-analysis/outdoor-furniture-market)
What can we infer from the above information?
In the next 10 years, garden furniture will grow wildly, and the demand will continue to increase.

With the increasing demand from hotels and people, the demand for garden furniture has surged.

Now, we need to choose the right suppliers to occupy the market.
Top 10 Patio Manufacturers in the World
Top 10 patio Manufacturers in the World:
1. Today's Patio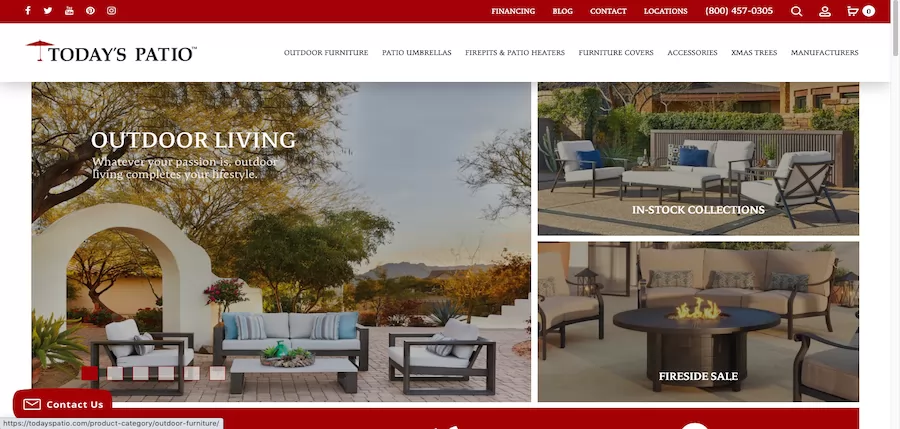 Company Profile:Today's Pool and Patio has been a quality patio manufacturer since 1979, providing customers in Arizona and the Phoenix area with excellent customer service, quality pool products and patio furniture, knowledgeable assistance, and Phoenix patio furniture super value. Their high number of repeat and referral clients is a testament to their success in providing exceptional service to their internet and retail clients. From dining chairs to lounge chairs, sofas to club chairs, their patio furniture designers and sales staff have found creative solutions for outdoor living projects to fit any budget, big or small.
Location: 15500 N. GREENWAY-HAYDEN LOOP SCOTTSDALE, AZ 85260
Company Type: Manufacturer
Website: https://todayspatio.com/
Main Products:Market Umbrellas, Cantilever Umbrellas, Commercial Umbrellas, Umbrella Stands, Pool and Patio Furniture, Outdoor Furniture, Fire Pit and Patio Heaters, Furniture Covers
2. California Patio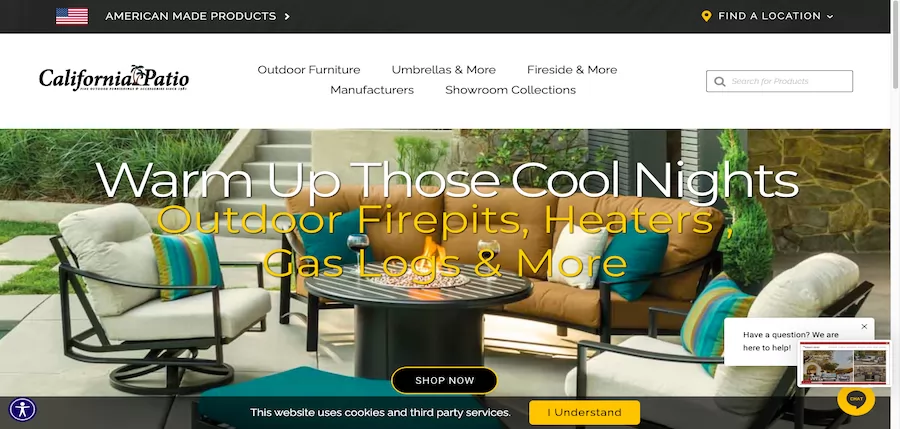 Company Profile:California Patio, an industry-leading patio manufacturer, was founded in 1981 in a small warehouse in Costa Mesa, California, and built on a passion for enjoying the outdoors, selling outdoor recreation products from industry leaders and starting Developed some of the best industry relationships, many of which still exist today. Add to that a total of over 6 years of experience in recreational and outdoor products from retail to manufacturing, and you can understand their passion for providing legendary service to their customers! You will be delighted by the knowledge, professionalism and genuine care they demonstrate every day. Their outdoor spaces are an extension of our own style and they have the best products in the business.
Location: 32601 Calle Perfecto San Juan Capistrano, CA 92675
Company Type: Manufacturer
Website: https://californiapatio.com/
Main Products:Outdoor Dining Furniture, Outdoor Seating Furniture, Small Space Collection, Bar Stools, Outdoor Patio Tables
3. Patioworld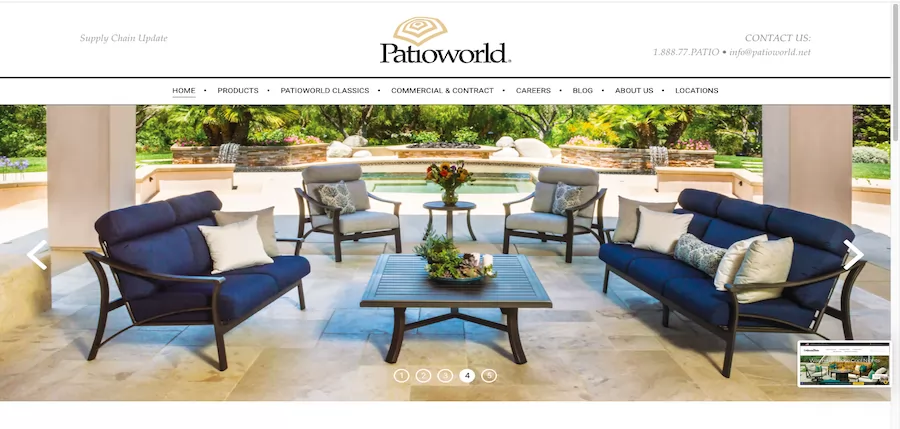 Company Profile:Patioworld is a patio furniture manufacturer with a long history. Serving the state of California for over 40 years, they have a long and well-deserved reputation for providing the highest quality products and outstanding customer service. Patioworld offers California's largest selection of premium and exclusive outdoor furniture and accessories. They will help you create a unique look for your outdoor living space with comfort and long-lasting quality.
Location: 530 Francisco Blvd W, Ste J San Rafael, CA 94901
Company Type: Manufacturer
Website: https://www.patioworld.net/
Main Products:Woven wicker, teak, aluminum, wrought iron, tents and gazebos, umbrellas, fire pits
4. Oasis Garden & Patio
Company Profile:Oasis Garden & Patio is a premium patio manufacturer, a customer-focused, family-owned business located in Southern California, offering the highest quality outdoor living products at the best value in the industry.
Location: 21182 Centre Pointe Pkwy #100 Santa Clarita CA 91350
Company Type: Manufacturer
Website: https://oasisgardenandpatio.com/
Main Products:Lounge chairs, deep seats, dining, fire deck, umbrellas
8.
Guangzhou Topmax Enterprise Limited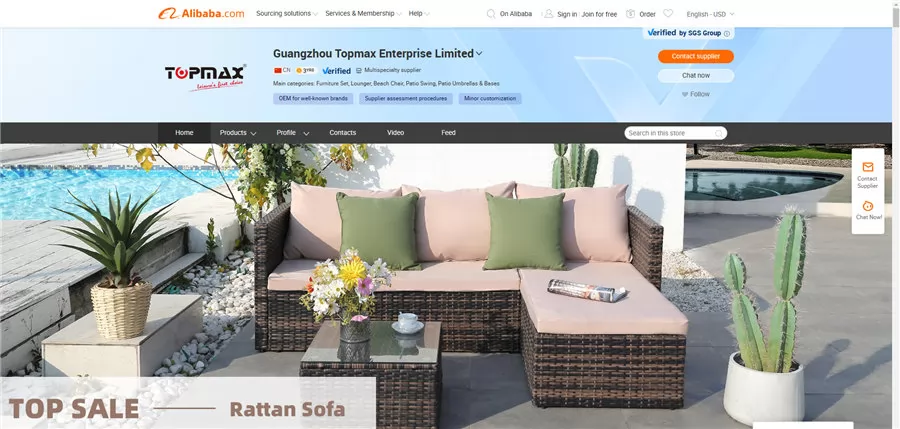 Company Profile:OPMAX Corporation is one of the industry-leading Manufacturers of patio furniture. They have a joint production base in Guangdong. Ningbo. Xiamen. Qingdao and Hebei. They have more than 200 employees working in the office and 1800 workers in the factory. They achieved a turnover of more than $100 million in 2021. The designed products sell well in dozens of countries in Europe and America.
Location: Floor 2, Self-Compiled 7 Bldg., 399, Yuangang Rd., Guangzhou, Guangdong, China
Company Type: Manufacturer
Website: http://www.topmax.cn
Main Products:Outdoor single sofa,Outdoor leisure garden sofa,Moon bed made of rattan
6. Ningbo Emerson Import And Export Co., Ltd.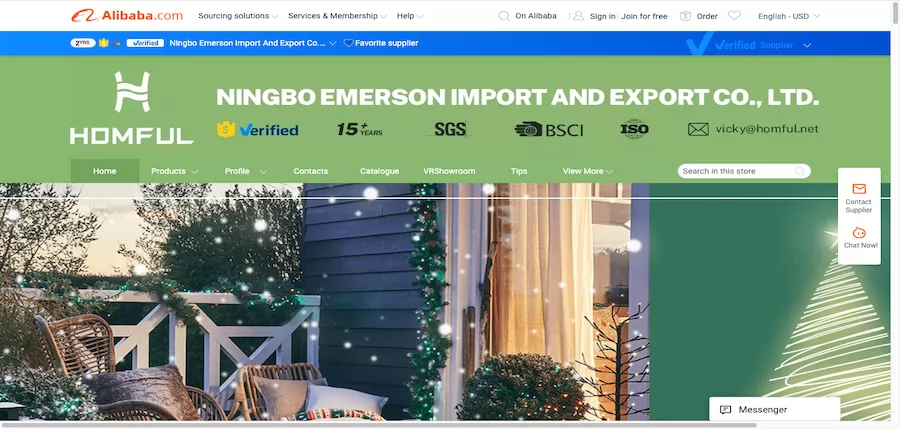 Company Profile:Ningbo Emerson Import & Export Co., Ltd. is a professional patio furniture manufacturer, as a subsidiary of Hongfu Group, located in Ningbo, engaged in leisure products since 2008, including parasols, gazebos, garden furniture and garden heating products. At Ningbo Hongfu, they help you create an outdoor patio that suits your style and needs and will be the perfect venue for elegant entertaining with family and friends.
Location: 34th Floor, 295 North Meteorological Road, Taoyuan Street, Ningbo, Zhejiang, China
Company Type: Manufacturer
Website: http://www.hfemerson.en.alibaba.com
Main Products:rocking Chairs & Sets,coffee & Accent Tables,dining Furniture,deep Seating & Sets,benches,swings & Gliders
7. Wuyi Sailing Leisure Products Co., Ltd.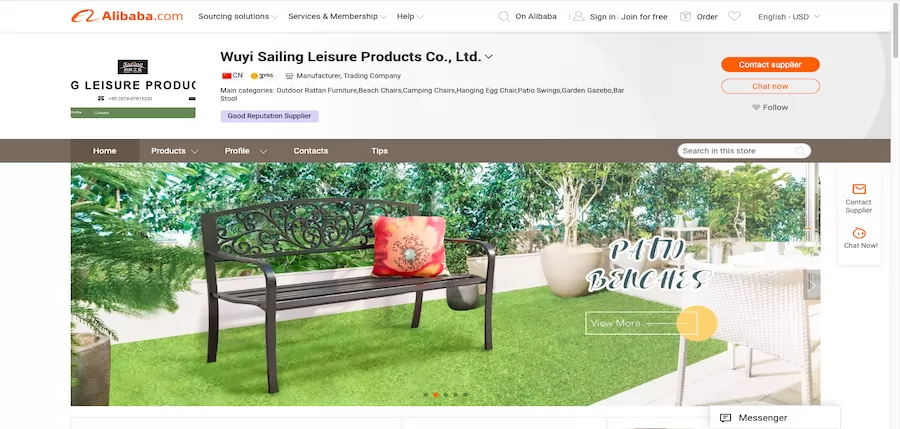 Company Profile:Wuyi Sailing Leisure Products Co., Ltd. is an excellent patio manufacturer, with the values of people-oriented, win-win and innovation, they are building a value chain of product design, development, manufacturing and sales. Together with suppliers and customers, they optimize products from every detail to gain more competitive advantages, help global partners grow their businesses and meet consumers' expectations.
Location: Shaoyang North Street, Baiyang Street, Jinhua, Zhejiang, China
Company Type: Manufacturer
Website: http://sailingleisure.en.alibaba.com
Main Products:Sofa Sets,Loveseat Sets,Dining Sets,Conversation Sets,Fixed & Swivel Chairs,Chaise Lounges
8. Zhongshan City Jiahe Metal Co., Ltd.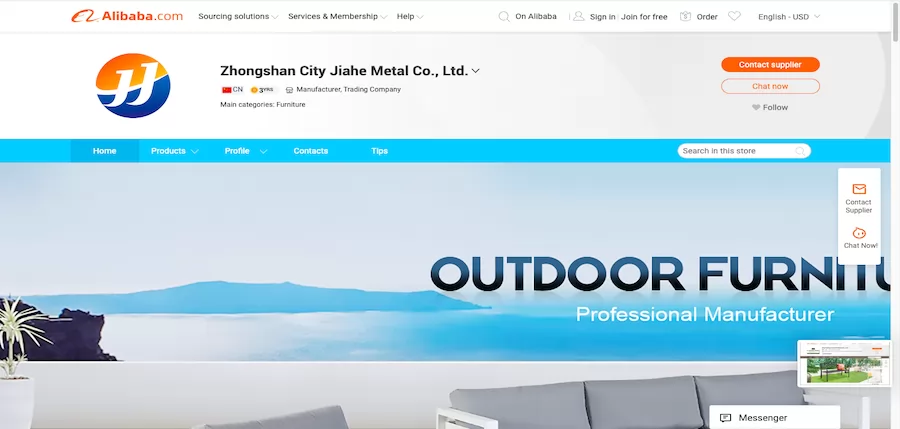 Company Profile:Zhongshan Jiahe Metal Co., Ltd. is a very good manufacturer of patio furniture, established in 2015, their company covers about 30,000 square meters. Now they have nearly 300 employees, including 10 R&D engineers and they strictly implement the requirements of ISO9001. All products have been exported all over the world. The company will never stop developing, focusing, efficient, mutual benefit, and provide high standard service to all their customers.
Location: Plant In Zone C, Hengmen Haicheng North Road (opposite Kaisijie Storage), Nanlang Town, Zhongshan, Guangdong, China
Company Type: Manufacturer
Website: http://www.jiaheasia.com
Main Products:Swing Chair,Wicker Basket,Wooden Crafts,outdoor furniture,Vase
9. Bazhou Huiteng Furniture Co., Ltd.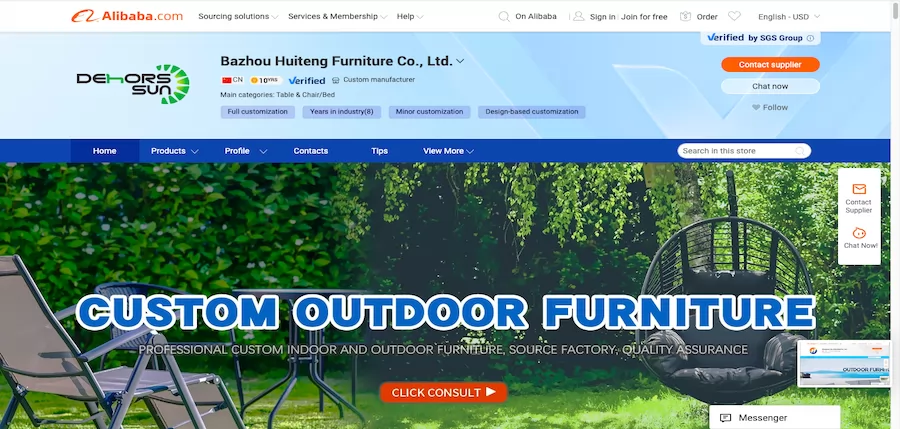 Company Profile:Bazhou Huiteng Furniture Co., Ltd. was established in 2007 and is located in North China Industrial Zone, the largest furniture city in China. It is a professional furniture manufacturer mainly engaged in terrace furniture. Sold to the United Kingdom, France, Germany, Denmark, Sweden, Greece, the United States, Canada, Australia, South Korea, etc. Their factory covers an area of 50,000 square meters, employs about 200 people, and they have a complete production, quality management system and high-quality workforce. They provide not only high-quality furniture, but also a sense of comfort and security. trust yourself. Trust Huiteng, they will be your ideal partner.
Location: Zhongxing Ind. Zone, Langfang, Hebei, China
Company Type: Manufacturer
Website: http://huitengfurniture.en.alibaba.com
Main Products:Outdoor furniture courtyard,Outdoor double sofa,Outdoor three person sofa
10. Guangzhou Bkai Imp & Exp Corporation Ltd.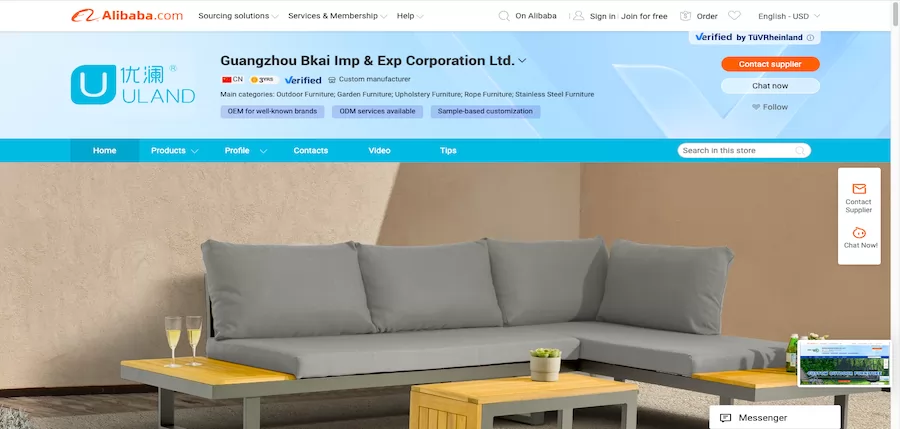 Company Profile:Couture is an industry specialist patio manufacturer and the group began with an inspiring vision - to become the world's leading operator of home and garden furniture. They are people-oriented, provide high-quality, comfortable, and diverse leisure furniture solutions, and create a more relaxed environment, natural, and healthy lifestyle.
Location: Building 46, Yiku Phase 3, Dongyi Road, Guangzhou, Guangdong, China
Company Type: Manufacturer
Website: http://www.couturejardin.com.cn
Main Products:Foreign trade garden furnit,Pastoral furniture,Garden rattan furniture
Benefits of Choosing a Chinese Patio Manufacturer
There are several benefits to choosing a Chinese patio manufacturer for your patio needs:
Cost: Chinese patio manufacturers are often able to offer competitive prices for their products due to lower labor and production costs in China. This can result in significant cost savings for the purchaser.

Wide range of options: Chinese patio manufacturers offer a wide range of patio products, including different materials, styles, and sizes. This allows you to choose the patio that best fits your needs and preferences.

Quality: Many Chinese patio manufacturers have a reputation for producing high-quality products that are durable and long-lasting.

Customization: Some Chinese patio manufacturers offer customization options, allowing you to choose specific colors, materials, and sizes for your patio.

Convenience: Many Chinese patio manufacturers offer online shopping options, making it easy and convenient to purchase patio products from the comfort of your own home.
It's important to note that it is always a good idea to carefully research any company you are considering doing business with, including Chinese patio manufacturers, to ensure that they have a good reputation and offer high-quality products.
How to Find a Reliable Patio Furniture Buying Agent?
Coolosourcing is a professional Chinese patio furniture sourcing agency, providing the following help for every buyer.
Collect products from manufacturer.

Perform detailed factory verification.

Obtain confirmation samples from manufacturer.

Assist in label and color box design.

Negotiate prices with local manufacturers.

Order tracking after placing the order.

Quality control at every stage of manufacturing.

Quality inspection of each component and product.

Free warehouse until shipped.

Consolidate goods before shipment.

Provide door-to-door logistics services for buyers.

It provides all other one-stop procurement and supply chain solutions.
Conclusion
These are the top 10 patio furniture manufacturers in the world, hope to help the owner. Coolosourcing can be purchased by the general manager of the company, and the product will be delivered to your door. Others hope that through the resolution of the problem, the free resources will be formed and the cooperation will be carried out.
Related Reading:
Ultimate Guide : Top 10 Global Cabinet Manufacturers 2022
Ultimate Guide : Top 10 Global Outdoor Furniture Manufacturers 2022